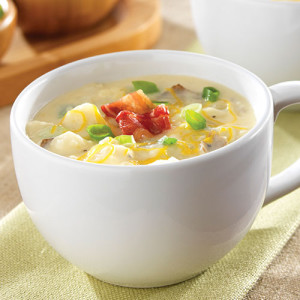 By Kristi O'Toole
Despite it being the middle of May, our weather is so mild and lovely today that a nice soup is definitely on our menu!
Ingredients:
2 cups (500 mL) milk
1 3/4 cups (425 mL) chicken broth
1 tbsp (15 mL) butter or margarine
1 garlic clove, pressed
1 tbsp (15 mL) all-purpose flour
1/2 cup (125 mL) instant potato flakes
2 oz (60 g) broccoli, coarsely chopped (about 1/2 cup/125 mL)
1/4 tsp (1 mL) salt
1/4 tsp (1 mL) coarsely ground black pepper
Sliced green onions, shredded cheddar cheese, crisply cooked, crumbled bacon and sour cream (optional)
Directions:
1)Using EASY READ MEASURING CUPS, measure milk and chicken broth; set aside. Melt butter over medium heat in a (2-qt./1.9-L) SAUCEPAN. Add garlic and flour; cook and stir 1 minute. Add milk, chicken broth and potato flakes. Bring mixture to a boil; reduce heat to a simmer.
2)Add chopped broccoli (be sure and use your FOOD CHOPPER), salt and black pepper to soup; simmer, uncovered, 3-5 minutes or until broccoli is tender. Remove saucepan from heat. Ladle soup into bowls; top with green onions, cheese, bacon and sour cream, if desired.
Kristi stays busy with her writing, shoe designing and Pampered Chef business so she knows how precious time can be; she also knows how important eating healthy and showing your children life beyond fast food can be. The Pampered Chefs Happy Families segment is designed with busy lives in mind. The recipes presented will be fast, easy and affordable to everyone. The tools you need to complete these meals can be found on her personal website.
Comments or questions are welcome.