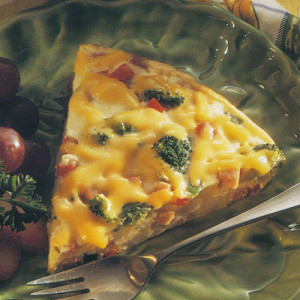 By Kristi O'Toole
For a special breakfast or brunch anytime, try this flavorful egg dish. This open face omelet features a medley of garden fresh flavors.
Ingredients:
1 cup broccoli florets
1/2 cup red bell pepper, chopped
1/4 cup green onions, chopped
1 1/2 cups turkey ham, cubed
1 cup frozen hash brown potatoes, thawed
2 1/2 cups egg substitute
1/4 teaspoon ground black pepper
1/2 cup (2 oz) shredded reduced-fat cheddar cheese
Directions:
Preheat oven to 350°F. Chop broccoli, red bell pepper and green onions using Food Chopper (#2585 $34.00). Lightly spray Executive (10-in.) Skillet (# 2865 $159.00) (do not use stainless cookware) with vegetable oil using Kitchen Spritzer (#2733 $26.50). Cook broccoli, red bell pepper and onions over medium heat 4-5 minutes or until tender. Add turkey ham and hashbrown potatoes; cook an additional 2 minutes, stirring frequently. Whisk egg substitute and pepper in Small Batter Bowl (2432 $15.00) with Stainless Whisk (#2475 $15.00). Pour egg mixture over vegetables in Skillet; cover. Cook over medium-low heat 8-10 minutes or until egg mixture is set. Remove from heat; sprinkle with cheese. Bake, uncovered, 5-7 minutes or just until cheese is melted. Remove pan from oven with Oven Mitts. Serve immediately.
Kristi stays busy with her writing, shoe designing and Pampered Chef business so she knows how precious time can be; she also knows how important eating healthy and showing your children life beyond fast food can be. The Pampered Chefs Happy Families segment is designed with busy lives in mind. The recipes presented will be fast, easy and affordable to everyone. The tools you need to complete these meals can be found on her personal website.
Comments or questions are welcome.