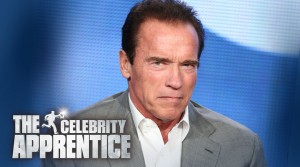 By Kristi O'Toole
Arnold Schwarzenegger is ready to take the reins. The former governor and Terminator star is set to take over for Donald Trump as the host and master of firing of Celebrity Apprentice, after NBC severed tied with the Republican presidential candidate.
In the first poster for the eighth edition of the celeb rendition of the series (and the 15th season in the franchise), Schwarzenegger is seen on a horse, taking the reins, with NBC making it clear the time has come for The New Celebrity Apprentice.
My feelings on this? NBC … You're FIRED!
When Kristi isn't writing for NewzBreaker, she writes supernatural suspense novels having three currently published. If you would like to check out any of her books they can be found online and at other major retailers like Books a Million and Amazon. Never one to rest, she also paints/designs shoes and items for the home. Check out her eBay store, Watered Down Vodka and her FB page.
Comments or questions are welcome.