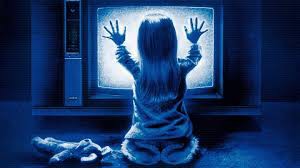 By Kristi O'Toole
When we hear the term, 'Poltergeist' few of us don't reminisce of killer clowns, maggot chicken and short ladies. What? Tangina rocked. Anyway, the truth of the matter is Poltergeist are a very real thing to those who experience them. In this column I'll cover some of the most terrifying accounts I could find. You may not want to continue if you're currently home alone. Consider yourself warned.
The South Shields Poltergeist…
A short distance north of Pontefract is the town of South Shields. It was here, in the summer of 2006, that a young couple and their three-year-old son were terrorized by a nasty spirit. Their real names haven't been revealed, but they're typically known as Marc and Marianne.
The haunting began in December 2005 with the otherworldly Feng Shui typical of poltergeist infestations. The spirit stacked chairs, moved chests of drawers, and slammed doors. But this wasn't any old ghost—it was malicious and it meant business. And it had access to something the family hadn't counted on: small, cuddly toys.
One night in bed, Marianne felt her son's toy dog hit her on the back of the head. She sat up and turned on the lights just in time to see a second stuffed dog flying in her direction. The couple cowered under the duvet, but felt something trying to pull it away. All of a sudden, Marc yelled in pain, and 13 scratches appeared on his back. The scratches were gone the next morning. While the poltergeist had shown that it could cause direct physical harm to humans, it seemed determined that toys were the way to go. It hung a rocking horse from the ceiling by its reins, then it placed a large, cuddly rabbit in a chair at the top of the stairs—with a sharp box cutter in its adorable paws.
The ghost left messages on the young boy's whiteboard, and even sent text messages (that couldn't be traced to any phone or computer in this world). They were typically threatening messages, like, "You're Dead."
Even the couple's three-year-old son sometimes went missing. He would be found hiding in random parts of the house, cuddled up with his blanket. They found him in a closet once, and hiding under a plastic table another time. That's a thing that all children of that age manage by themselves, but the couple blamed their infernal houseguest.
The family called in paranormal researchers Mike Hallowell and Darren Ritson. The experts determined that even though Marc was the sort of person who seemed like he liked to play pranks, the ghost was real. Then they wrote a book about it. Among the things you can see on the book's website are a picture of a plastic bottle poised in an "impossible" way, and a message on a magnetic drawing toy that says, "Just go Now."
The Great Amherst Mystery…
On September 4, 1878, Esther Cox woke up screaming in her bedroom in Amherst, Nova Scotia. The 19-year-old shared a room with her sister Jennie, and when she calmed down she complained that she'd felt a mouse under her mattress. The two girls lived in the house of their elder sister and her husband, Daniel Teed. Daniel's brother John Teed was also living there.
The sisters searched, but the room appeared to be suspiciously rodent free. Then, the same thing happened the next night. Again they searched, and again they found nothing. Then, on September 6, Esther awoke in pain, her entire body swelling and turning bright red. A series of loud bangs echoed through the room, after which Esther returned to normal and fell asleep.
The same thing happened again a few days later, but this time other family members heard the commotion and rushed into the room. Esther's bedding had been torn from her bed by an unseen force and thrown around the room. John Teed was among the first there, and he tried to help put the bedding back on, but ended up in a battle of wills with whatever invisible force wanted to keep the beds unmade. The poltergeist also attacked John with a pillow.
After everyone heard a few more sudden explosions, everything went back to normal. The family called their physician, Dr. Carritte. The doctor stayed in the room when Esther went to bed. When the young woman's pillow began sliding around under her head, Carritte tried to hold onto it, but his invisible opponent was stronger. During the pillow-tugging contest, Carritte heard scratching and saw a message slowly appear in the wall, carved by an invisible instrument: "Esther Cox, you are mine to kill!"
In the following weeks, the poltergeist began setting small fires. He threatened to burn the house down unless Esther left, so she went to stay at a local inn with a friend of the family. The poltergeist followed, and Esther was seriously injured when a pocket knife flew from the hand of the innkeeper's son straight into Esther's back. When the boy tried to pull it out, it was again yanked from his hand and plunged into the same opening. The wound became infected, and Esther barely survived the following weeks.
When she was well again, Esther met a man named Walter Hubbell, and he had the worst idea in history. He took Esther to New Brunswick and put on a show, charging people to come and witness the spooky phenomena. The poltergeist never made a peep in front of the audience. The world's most boring theater piece was chased out of town, and the two were forced to abandon the project.
Esther then got a job as a domestic helper for a local court clerk, Arthur Davison. Esther had only been there a few months when their barn burned down. The young woman was blamed for starting the blaze, but she insisted that it was actually her poltergeist stalker. The judge wasn't impressed, and Esther was convicted of arson. The poltergeist became gradually less active, and went away as mysteriously as it had turned up. Esther married twice, and died in 1912.
Stoke Lacy's Haunted Road…
Back in 2002, a fence seems to have lost an argument with a ghost in the English village of Stoke Lacy. At least, that's the best explanation for the fact that a spirit is reported to have crashed 26 cars into the same fence in an 18-month period.
Many of the drivers reported a sensation of having their hands pulled away from the steering wheel just before they veered off course. Others claimed that their wheels simply didn't respond. Some cars rolled over, yet there wasn't a single injury. This fact was made even stranger by the words of a mysterious psychic.
A local councilor, Richard James, said he'd been approached by a man he didn't recognize at a meeting in the local pub. The strange old man told the councilor that he was a psychic, and that a woman had died at the accident hotspot in the 1930s. She'd been killed in a car accident after a fight for control of the steering wheel. She wished to inflict the same fate on other motorists, but had promised that she won't let anyone get hurt. That's good news for people, and bad news for the fence.
Carole Compton
Many poltergeist stories suggest that the phenomena may be being caused, subconsciously, by a person with some sort of latent psychokinetic ability. That is, they can move things with their mind, but not consciously control their power. At least, that's what seems to have happened to Carole Compton.
In the early 1980s, Compton worked as a nanny in Italy, but it didn't go well. When she was with her first family, a painting fell from the wall when she walked by. She went to stay with them at their holiday home in the Alps, but that burned down during their vacation. When the family returned home, random fires began appearing around the house. The family eventually let Compton go when a fire started in their son's room.
The young Scot found another job with the Tonti family. It didn't take long before household objects began flying around, and a mattress caught on fire. Presumably, the Tontis hadn't asked for a reference, because this didn't cause them to sack Compton immediately. That happened when fire engulfed the room of their three-year-old daughter, Agnese. The family had Compton arrested, and she was charged with arson and attempted murder (luckily, no one was hurt during any of these fires).
The trial became a media circus. The public perception was that she was a sorceress, an accusation made by Agnese's grandmother. Catholics gathered outside the court, crucifixes in hand, and chanted prayers. International press coverage called the event a witch trial. Guy Lyon Playfair, a parapsychologist whose investigation of Britain's infamous Enfield poltergeist earned him a Wikipedia page, offered to fly out and help defend Compton.
The trial took 16 months, during which time Compton was kept in prison. No one had actually witnessed her starting a fire, which made the prosecution's job difficult. Fire and falling things just seemed to follow the young woman. Eventually, she was convicted of arson, but the attempted murder charges were thrown out. The judge decided that the 16 months she'd already spent inside were punishment enough, and she was released. Compton moved back to the UK and wrote a book about the events, Superstition: The True Story Of The Nanny They Called A Witch.
And last but most certainly not least, one of my personal stories.
The Red Cottage Entity…
Close to fifteen years ago now I was employed as nurse's aide and activities director in our small town nursing home. Anyone who has ever worked in this environment can tell you things happen that simply cannot be explained away as imagination.
The particular building I was working in was known as the Red Cottage, there was a Green and Lavender Cottage as well, all based on the level of care required by our residents. The Red Cottage was for our more ambulatory and cognitive residents; great fun was had there with them. Terrifying times too.
Because I'm a lucky person, I was assigned to the night shift. Typically, this wasn't a bad shift as most residents were sleeping and things were calm. At least they were supposed to be calm. One night after my rounds, around two o'clock in the morning I was in the office filling in the medications sheet when I heard the very distinct sound of a walker and feet shuffling down the corridor towards the office. I immediately jumped up to see who it was for fear of them falling only to find no one there.
Being a believer in the paranormal, I brushed the incident off as residual energy (a spiritual playback of times gone by). However, when I began to hear children running and laughing, I became a little bothered; not to say at some point in history children couldn't have lived in that location, but the idea of deceased children has always made me extremely uneasy.
There were two rooms within the Red Cottage that no one used, one of the rooms had been turned into a storage room after several unexplained deaths took place inside, and the other, well, I'm not sure why it wasn't used apart from maybe the horribly oppressive feeling it held.
Things went south for me when I began to hear noises coming from both rooms. Of course I understand there could have been mouse activity or possibly even a raccoon, but the noises remained isolated to those two rooms and really seemed to increase when I was forced to work close to their doors. One room was opposite the laundry area while the other was opposite the kitchen area. No matter what I was doing, I always felt like I was being watched by something I could not see.
After an ominous dream I had, the next evening at work would be my last. I had just finished rounds and entered the office when I heard noises coming from the dining room. I made my way down to see who was up for a midnight snack only to find the room empty. When I turned to leave I heard someone call my name, it was a man's voice. I paused and turned back to see no one. With a sense of urgency, I began the trek down the corridor back to the office when I heard the voice call my name a second time, only this time it was right in my ear. It was then I made my way to the Green Cottage for a backup nurse's aide; there was no way I was staying alone after that.
Whether you believe or not is your business. I know the things I felt and heard and I wish that sense of terrified hopelessness on no one. Next time I'll cover dream premonitions.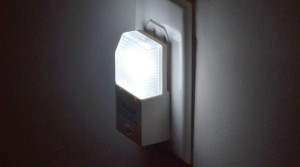 Until then, keep the night light burning.
When Kristi isn't writing for NewzBreaker, she writes supernatural suspense novels having three currently published. If you would like to check out any of her books they can be found online and at other major retailers like Books a Million and Amazon. Never one to rest, she also paints/designs shoes and items for the home. Check out her eBay store, Watered Down Vodka and her FB page.
Comments or questions are welcome.