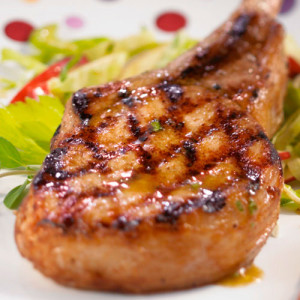 By Kristi O'Toole
Ingredients:
2 tbsp plus 1/2 tsp ground cumin
5 tbsp lime juice
2 tbsp honey
1 tbsp finely chopped fresh oregano
1 tbsp Dijon mustard
1 garlic clove, pressed
1 tsp salt, divided
1/2 cup olive oil
4 oz green cabbage (about 1 cup thinly sliced)
2 stalks celery, peeled
1 medium gala apple
4 bone-in pork loin chops (8 oz each)
1/2 tsp coarsely ground black pepper
Directions:
For vinaigrette, place 2 tbsp of the cumin in (8-in.) Sauté Pan (#2863 $52.00). Cook over medium heat 1-2 minutes or until fragrant, stirring constantly. Combine toasted cumin, juice, honey, oregano, mustard, pressed garlic and 1/2 tsp of the salt in Small Batter Bowl (#2432 $15.00); whisk until smooth. Slowly add oil, whisking constantly; set aside.
Thinly slice cabbage using Chef's Knife (#1054 $79.00). Thinly slice celery on a bias. Cut apple into 1/4 x 2-in. pieces. Place cabbage, celery, apple and half of the vinaigrette in Stainless (4-qt.) Mixing Bowl; toss to coat.
Heat Grill Pan (#2868 $149.50) over medium heat 5 minutes; using kitchen spritzer (#2733$26.50) spray with vegetable oil. Combine remaining cumin, salt and pepper in (1-cup) Prep Bowl; sprinkle over pork. Cook pork 4-6 minutes or until Pocket Thermometer registers 150°F near inside of the bone, turning once. Serve pork with slaw and remaining vinaigrette.
Kristi stays busy with her writing, shoe designing and Pampered Chef business so she knows how precious time can be; she also knows how important eating healthy and showing your children life beyond fast food can be. The Pampered Chefs Happy Families segment is designed with busy lives in mind. The recipes presented will be fast, easy and affordable to everyone. The tools you need to complete these meals can be found on her personal website.
Comments or questions are welcome.