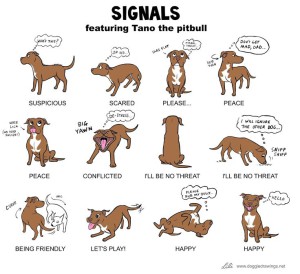 By Delsie Lewis
Do you know how to read your dog's body language? Knowing your dog and what they are trying to say to you is so important. Even more important is knowing what a new dog or one you are just meeting is trying to say to you. The stance we all love to see is the play stance, head near the floor, rear end in the air and the tail wagging. This means the dog wants to play.
Things to look for which could lead to a problem: If the dog has its ears laid back, it is either scared or angry, leave this dog alone. A dog with the hair standing up on its back is being territorial and may be ready to fight, separate this dog from any other dogs immediately.
The dog you see with their head hanging low, and will not make eye contact is sad and submissive. This dog is likely to be in a situation they have no control over, such as doggie jail or a shelter. This dog will likely make a wonderful pet and companion, once it is shown love.
Children should always be taught how to approach and treat a dog. It may be cute to have a small child "ride" the back of a dog like a horse, but what is that dog thinking? The dog is probably not enjoying this and may get up and leave, leaving the child on the floor. Children are fascinated by dogs tails and ears, they have a tendency to want to pull on them. This is NOT a good idea. This can be painful for a dog and the dog could bite the child to let them know to leave them alone. The dog is not to blame the parent is for not teaching their child better. If a child is taught to respect the dog or cat, they will have a friend and protector. Many times dogs end up in shelters due to children being allowed to treat the dog like a toy. This is again the parents fault for teaching both the child and the dog what is expected.
"Dogs can't tell us in words what they're thinking and feeling because they don't have to. They're expressing themselves constantly through motion and body language — intention times emotion equals energy. Once we learn how to understand these, a whole world of communication with our dogs opens up."– Cesar Millan
Check out Fur Babies website and their Facebook Page Fur Babies Adoptions and Rescue.
Comments or questions are welcome.