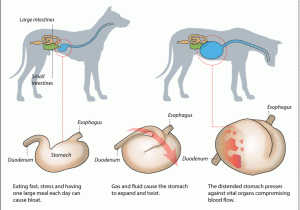 By Delsie Lewis
Bloat is a life threatening condition dogs can face. It's  caused when the stomach becomes filled with air, food or liquid causing it to press against the other organs and possibly cutting off the blood flow to the stomach. It can also prevent the stomach from emptying. A dog experiencing bloat needs to be seen by a veterinarian immediately.
Signs of bloat include: a swollen abdomen, retching or an inability to belch or vomit, excessive drooling, shortness of breath, rapid heartbeat and can cause sudden collapse. Bloat in dogs can be fatal in 40% of cases.
What causes bloat? It is more common in male dogs who are underweight, deep chested breeds, a diet of dry food only and one meal a day, eating too fast, and excessive exercise after a meal. These are the common factors seen by veterinarians, they are not absolute. Bloat can occur in other situations.
Bloat is a problem that will not heal itself, the dog must be seen by a veterinarian immediately or it will die.
Further information on bloat can be found on Petfinder.
Check out Fur Babies website and their Facebook Page Fur Babies Adoptions and Rescue.
Comments or questions are welcome.