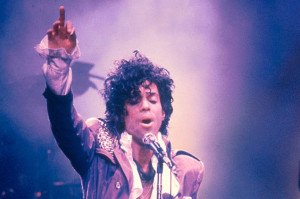 By Ian Murphy
I personally do not claim to be a tremendous Prince admirer, nor do I feel his loss in the same way that a true fan would. I (like most musicians) have very finicky tastes sometimes, and when it comes to enjoying music, sometimes you just have to say "Well, that's not my bag, really, but damn that guy is GOOD!" I have tremendous respect for Prince as an artist and it needs to be stated that with his untimely death, the world has lost a nearly peerless talent. He is in the same class as people like Jimi Hendrix (perhaps even more so because he was proficient in seemingly everything he got his hands on) and Paul McCartney. In a way, he was a kind of a mish-mash of Hendrix, David Bowie and Sir Paul: equal parts artistic impresario, musical juggernaut, and songwriting phenom. How can you not respect that?
Prince was more than a singer or a songwriter, or even a musical genius. He was an icon of uninhibited personal expression. He was a man that fit perfectly within the times in which he lived and thrived: the 1980s. In that decadent decade, image and media was beginning to usurp musicality and with the advent of MTV in 1981, Prince was indeed the man of that hour. His style, good looks, and smoldering sexuality was a perfect match for his big persona and even bigger talent. 1984's Purple Rain was the high water mark of his career, and it made him not only a household name, but an icon, a title that he carried for the rest of his life.
As a musician myself, I can tell you that he is even better than his reputation suggests, and that is absolutely staggering. He was also not below contributing to the songs of his contemporaries. In 1983, when Stevie Nicks was writing material for her blockbuster album The Wild Heart, she was stuck on the intro of the song that would become "Stand Back". Nicks had just heard "Little Red Corvette" on the radio and was inspired by Prince's lush synth arrangements and wanted to incorporate that sound on "Stand Back". When she was in the studio set to record, she called Prince and he actually came in and worked on it with her, contributing the notable intro to that song. She said that "he just came in and did it. When he was done, he just got up and left like it was a dream". That whole interaction was Prince in a nutshell: mystery combined with massive genius.
This short tribute is not to shed light on the strangeness of his death, or regurgitate information about all his hit singles as that would be an insult to his brilliance and also to his memory. It is a paean to Prince's immense talent and incredibly legacy. Prince was an enigma of a man who valued his privacy and who also consciously cultivated his mystique. He fully understood how to brand himself (famously eschewing his name in favor of a symbol) and his image, along with his great talent, will live on forever.
Comments or questions are welcome.