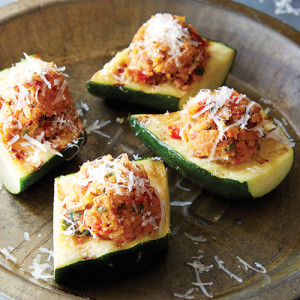 By Kristi O'Toole
Kids hate veggies? Of course, but all kids love boats!
Ingredients:
6 oz (175 g) bulk mild Italian sausage
1/2 cup (125 mL) seasoned croutons
1/2 jar (7 oz) roasted red bell peppers (6 tbsp/90 mL), drained and patted dry
1/4 cup (50 ml) loosely packed fresh basil leaves
1 garlic clove
1 1/2 oz (45 g) fresh Parmesan cheese (3/4 cup/175 mL grated)
Canola oil for spraying zucchini
3 medium zucchini
Directions:
In Small Batter Bowl (#2432 $15.00), microwave Italian sausage, uncovered, on HIGH about 3 minutes, stirring with Mix 'N Chop (#2583$12.00) halfway through cooking. Drain sausage.
Process croutons, bell peppers, basil and garlic pressed with Garlic Press (#2576$18.00) in Manual Food Processor( #2593$52.50) until finely chopped.
Grate Parmesan with Microplane® Adjustable Fine Grater(#1105$29.50).
Add crouton mixture and ⅔ cup (150 mL) of the cheese to batter bowl with Italian sausage. Mix well. (Reserve remaining cheese.)
Cut off ends of zucchini. Cut zucchini in half lengthwise. Peel a thin slice from rounded bottoms of zucchini halves with Serrated Peeler (#1072$10.00) to create a flat base.
Using loop end of Core & More (#1176$12.00), scoop 4 wells along the length of each zucchini half, about ½-in. (1-cm) deep (see Cook's Tips).
Preheat Executive Double Burner Grill (#2924$189.50), over medium heat 3-5 minutes. Lightly spray both sides of zucchini with oil using Kitchen Spritzer (#2733$26.50). Place zucchini well-side down in pan. Cook 3-5 minutes or until grill marks appear. Using Large Chef's Tongs ( #2955$23.00, turn zucchini halves over.
Using Small Scoop, place one level scoop of bell pepper mixture into each well of zucchini. Cook an additional 3-5 minutes or until zucchini are crisp tender. Sprinkle with remaining cheese.
Using Slotted Turner, remove zucchini to cutting board. Cut zucchini in between wells into 24 pieces.
Kristi stays busy with her writing, shoe designing and Pampered Chef business so she knows how precious time can be; she also knows how important eating healthy and showing your children life beyond fast food can be. The Pampered Chefs Happy Families segment is designed with busy lives in mind. The recipes presented will be fast, easy and affordable to everyone. The tools you need to complete these meals can be found on her personal website.
Comments or questions are welcome.