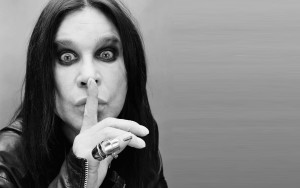 By Kristi O'Toole
Ozzy Osbourne is missing after wife Sharon kicked him out over claims of a fling with a hairstylist. Son Jack, 31, is said to be desperate to speak to rocker Ozzy but cannot find him. Pals said Ozzy's children tried to contact stylist Michelle Pugh (the alleged other woman) to see if their dad was with her but she did not turn up for work on Saturday. A source said: "Jack tried to get hold of Ozzy because he thinks he might talk some sense into him. "He and his sisters Kelly and Aimee are worried about him and a bit shocked by what has gone on." "But Sharon is in an unforgiving mood and does not want him in the house, so it's a difficult position."
"Sharon has got a fiery temper, but after a row, they often kiss and make up." "It is a bit different this time, though, and she is extremely angry with Ozzy."
The Sun on Sunday revealed Sharon, 63, accused Ozzy, 67, of an affair with rock fan Michelle, 45, who works at a salon in LA. After he was kicked out of their home, Ozzy went to the Beverly Hills Hotel, but is not now believed to be staying there.  Our source explained: "Ozzy is in a hotel somewhere and has taken his credit cards and some money with him. "But he is not brilliant on his own and is a bit like a puppy — he goes missing but then usually turns up sooner or later."
Friends fear Ozzy, who has battled alcohol and drugs, could fall off the wagon.
It is not known if Ozzy has a mobile phone with him, making it hard for his family and friends to contact him.
Meanwhile, angry Sharon spent Mother's Day at home surrounded by her kids and grandkids. Her and Ozzy's children Aimee, 33, Kelly, 31, and Jack, 30 — plus Jack's two daughters — spent the day with Sharon and a chef was called in to prepare a Mother's Day meal.
A bouquet of Mother's Day flowers arrived at her home on Saturday night, before the celebration yesterday.
The source added: "Sharon was yesterday with the kids and grandkids, and would have been making sure she enjoyed the day and spent quality time with them. She will have been trying to put Ozzy out of her mind and having a traditional Mother's Day."
When Kristi isn't writing for NewzBreaker, she writes supernatural suspense novels having three currently published. If you would like to check out any of her books they can be found online and at other major retailers like Books a Million and Amazon. Never one to rest, she also paints/designs shoes and items for the home. Check out her eBay store, Watered Down Vodka and her FB page.
Comments or questions are welcome.