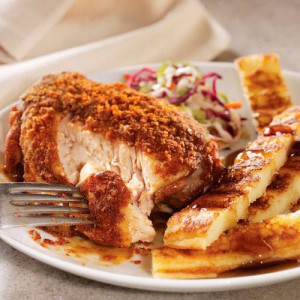 By Kristi O'Toole
This fun version of a southern favorite features an easy waffle made right in Pampered Chefs exclusive Double Press Grill Pan (Regular $250, get yours for $100! Ask me how!)
Ingredients:
Chicken
1/3 cup (75 mL) flour
1 1/2 tbsp (22 mL) paprika
1 1/2 tbsp (22 mL) garlic powder
1 tbsp (15 mL) onion powder
1 tsp (5 mL) salt
1/2 tsp (2 mL) cayenne pepper
1 cup (250 mL) buttermilk
6 bone-in, skin-on chicken thighs (6 oz/175 g each)
Waffle Sticks
3/4 cup (175 mL) flour
1/4 cup (50 mL) cornstarch
1/2 tsp (2 mL) salt
1/2 tsp (2 mL) baking powder
1/4 tsp (1 mL) baking soda
1 cup (250 mL) buttermilk
1 egg
1/3 cup (75 mL) canola oil
3/4 cup (175 mL) pure maple syrup
Directions:
Preheat oven to 425ºF (220ºC). For chicken, mix first six ingredients in first Coating Tray (#2605$23.50) until thoroughly blended.
Pour buttermilk into second tray. Dip chicken into buttermilk and then into spice mixture, coating evenly.
Arrange chicken evenly on Medium Sheet Pan (1721 $15.50). Spray chicken with canola oil using Kitchen Spritzer (2733$26.50). Bake chicken 20-23 minutes or until internal temperature reaches 165ºF (74ºC) in thickest part of chicken.
Meanwhile, for waffle sticks, heat Grill Pan over medium heat 3 minutes. Combine all ingredients except syrup in Stainless (2-qt./2-L) Mixing Bowl (3 bowl set 1735 $99.50); whisk until smooth.
Pour batter into pan; cook 4-6 minutes or until bottom is golden brown and bubbles appear on the top. Using Nylon Panini Spatula (2438 $4.00), loosen edges and bottom of waffle and carefully turn over. Cook an additional 2-3 minutes or until golden brown.
Remove chicken from oven. Cut waffle into eight rectangles. Slice each rectangle into thirds.
Serve chicken with waffle sticks. Drizzle with maple syrup.
Kristi stays busy with her writing, shoe designing and Pampered Chef business so she knows how precious time can be; she also knows how important eating healthy and showing your children life beyond fast food can be. The Pampered Chefs Happy Families segment is designed with busy lives in mind. The recipes presented will be fast, easy and affordable to everyone. The tools you need to complete these meals can be found on her personal website.
Comments or questions are welcome.