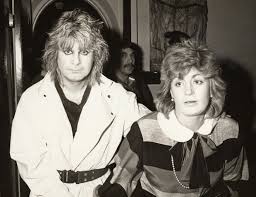 By Kristi O'Toole
Sharon Osbourne has split from Ozzy, her husband of 33 years, amid claims that the rocker may have been unfaithful, according to reports. According to numerous publications, the former 'X Factor' judge discovered that Ozzy may have had an affair with celebrity hairstylist Michelle Pugh. The couple's spokesman Gary Farrow has said: "At this time Ozzy is not at the marital home."

Meanwhile, a source tells the Sun: "Sharon went ballistic with Ozzy and accused him of having the affair. "She said she had suspected something had been going on for some time and now had proof." "Ozzy was extremely sheepish and admitted being close to Michelle." "It is likely Sharon has discovered calls and possibly meetings."
Meanwhile, hairstylist Michelle's boss at a top LA salon has confirmed that she's taken time off work due to a "personal emergency".
Am I the only one not shocked by a world renowned rock star possibly having an affair? I thought it was par for the course. No matter, well done Sharon; stick to your guns and take no BS from the Prince of Darkness, which he is not!
When Kristi isn't writing for NewzBreaker, she writes supernatural suspense novels having three currently published. If you would like to check out any of her books they can be found online and at other major retailers like Books a Million and Amazon. Never one to rest, she also paints/designs shoes and items for the home. Check out her eBay store, Watered Down Vodka and her FB page.
Comments or questions are welcome.