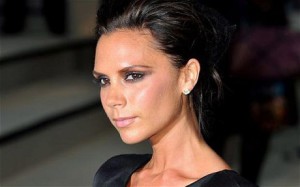 By Kristi O'Toole
Although Victoria Beckham put down the microphone years ago, it seems she never really needed one! The former Spice Girls member made a surprising confession about her mic during an interview at the Vogue 100: A Century of Style exhibition at the National Portrait Gallery in London on Thursday, per The Telegraph. "They used to turn it off and just let the others sing," she said. Posh Spice didn't care too much, though, as she joked, "I got the last laugh—and now my mic is well and truly on, finally."
Even in the girl group's movie Spice World it was clear that Beckham always had a penchant for fashion. "I bet it must be really hard for you Victoria, you know, trying to decide whether to wear the little Gucci dress, the little Gucci dress or the little Gucci dress," Mel C quipped in the film. But she took that passion and made an incredibly successful career out of it, becoming a designer that many A-listers turn to for red carpet events.
When Kristi isn't writing for NewzBreaker, she writes supernatural suspense novels having three currently published. If you would like to check out any of her books they can be found online and at other major retailers like Books a Million and Amazon. Never one to rest, she also paints/designs shoes and items for the home. Check out her eBay store, Watered Down Vodka and her FB page.
Comments or questions are welcome.