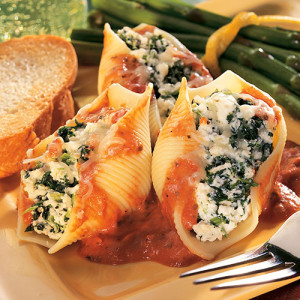 By Kristi O'Toole
These shells are so yummy and easy to make, you and your family will be glad you did!
Ingredients:
18 uncooked jumbo pasta shells
1 container (15 ounces) part-skim ricotta cheese
1 package (10 ounces) frozen chopped spinach, thawed, drained and squeezed dry
2 cups (8 ounces) shredded Italian cheese blend, divided
3/4 cup half-and-half, divided
1 ounce fresh Parmesan cheese, grated (about 1/4 cup)
1 garlic clove, pressed
1/2 teaspoon dried basil leaves
1/2 teaspoon dried oregano leaves
1/8 teaspoon salt
1 jar (26-28 ounces) spaghetti sauce
Directions:
Preheat oven to 350°F. Cook pasta shells according to package directions; drain.
Meanwhile, in Classic Batter Bowl (#2431 $18.50), combine ricotta cheese, spinach, 1 1/2 cups of the Italian cheese blend and 1/4 cup of the half-and-half. Grate Parmesan cheese into Batter Bowl using Rotary Grater (#1277 $21.00). Press garlic into Bowl using Garlic Press (#2576 $18.00). Add seasonings; mix well and set aside.
In Small Batter Bowl (2432 $15.00), whisk spaghetti sauce and remaining 1/2 cup half-and-half with Stainless Whisk(2475 $15.00) until blended. Reserve 1 cup of the sauce mixture; spread remaining sauce mixture over bottom of Rectangular Baker (1430 $42.00). Using Medium Scoop (2540 $17.50), fill each shell with rounded scoop of spinach mixture. Arrange filled shells in Baker. Top evenly with reserved sauce mixture. Cover Baker with pierced foil.
Bake, covered, 40 minutes. Remove Lid/Bowl. Sprinkle shells with remaining 1/2 cup Italian cheese blend. Continue baking, uncovered, 5 minutes or until cheese is melted. Remove from oven; let stand 10 minutes.
Kristi stays busy with her writing, shoe designing and Pampered Chef business so she knows how precious time can be; she also knows how important eating healthy and showing your children life beyond fast food can be. The Pampered Chefs Happy Families segment is designed with busy lives in mind. The recipes presented will be fast, easy and affordable to everyone. The tools you need to complete these meals can be found on her personal website.
Comments or questions are welcome.