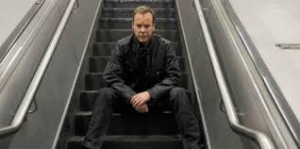 By Kristi O'Toole
Get ready for Kiefer Sutherland to be back on your TV screens.
The 24 vet is officially returning to TV now that ABC has picked up new series Designated Survivors for the fall, E! News has learned. The conspiracy thriller centers on Sutherland's Tom Kirkman, a lower-level cabinet member who finds himself unexpectedly thrust into the role of president of the United States following a devastating attack on Washington. As he navigates the most difficult presidency in history, he will struggle to keep both his family and the whole country from falling into chaos.
When Kristi isn't writing for NewzBreaker, she writes supernatural suspense novels having three currently published. If you would like to check out any of her books they can be found online and at other major retailers like Books a Million and Amazon. Never one to rest, she also paints/designs shoes and items for the home. Check out her eBay store, Watered Down Vodka and her FB page.
Comments or questions are welcome.