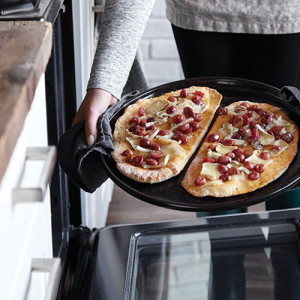 By Kristi O'Toole
Summer she is a coming! A delicious and easy snack for everyone is flatbread on the grill, I mean … you have it fired up anyway? Right? Check out these scrummy yummy options!
Variations:
*Grape, Rosemary and Brie
*Mushroom, Thyme and Goat Cheese
*Tomato, Basil and Mozzarella
5-Minute Dough:
Ingredients:
1.5 cups of flour (plus additional as needed)
1.5 tsp baking powder
0.5 tsp salt
0.25 tsp baking soda
1 cup plain low-fat Greek yogurt
1.5 tsp olive oil to brush the stone with
Directions:
1) Choose your variation. Preheat grill for direct cooking over medium-high heat (400-450 f/ 200-230 c)
2) For topper, heat oil in 12″ Executive Non-Stick Skillet (#2865 $159.00) over medium heat 1-3 minutes. Add topper and leave undisturbed 4-6 minutes or until deep golden brown.
3) For dough, combine dry ingredients in your Classic Batter Bowl (#2431 $18.50); mix well. Stir in yogurt and 1 tbsp of herb until combined. Mixture will look dry.
4) Turn dough out onto lightly floured surface and knead four minutes, sprinkling with additional flour as needed. Divide dough in half; for two balls.
5) Roll out one ball into half moon shape using lightly floured Bakers Roller(#1485 $19.50). Brush Rockcrok Grill Stone (#3150 $80) with oil. Transfer on to half of stone; repeat with remaining ball. Pierce entire surface of dough using pastry tool.
6) Place stone on grid of grill. Grill covered for 9-13 minutes or until the bottom of the crust is golden brown, rotating half-way through cook time. Remove stone from grill.
7) Flip crust over. Arrange cheese and topper over crusts. Grill covered 4-6 minutes or until crust is deep golden brown. Remove stone from grill.
8) Drizzle with balsamic glaze and top with remaining herb. Cut flatbread in half lengthwise and into fourths.
All variations will take a balsamic glaze, don't worry if you can't find one in store; here's an easy peasy homemade version you can make in the microwave:
*Whisk together 2/3 cup of balsamic vinegar, 1 tbsp of olive oil in Small Batter Bowl (#2432 $15). Microwave uncovered on high 6-8 minutes or until mixture is thick, syrupy and reduced to 1/4 cup. Cool at room temperature.
Kristi stays busy with her writing, shoe designing and Pampered Chef business so she knows how precious time can be; she also knows how important eating healthy and showing your children life beyond fast food can be. The Pampered Chefs Happy Families segment is designed with busy lives in mind. The recipes presented will be fast, easy and affordable to everyone. The tools you need to complete these meals can be found on her personal website.
Comments or questions are welcome.