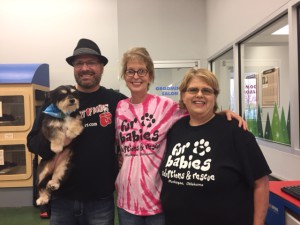 By Delsie Lewis
Photo Bella (Adopted by "Bad" Brad Berkwitt from Fur Babies), Fur Babies Full-Time Volunteer Cyndi Crossland & Fur Babies Founder Delsie Lewis
We all have seen this on signs and advertisements. There are 1000's of adorable mix breed and full blood animals in our shelters that need homes. They are not broken, they are not sick, they need homes. That is where rescues come in to play. A rescue that is recognized by the IRS as a 501c3 nonprofit can go to the shelters and "pull" or take dogs that need homes. A good rescue will take the dog to a veterinarian for rabies shots then to a foster home until the animal is spayed or neutered. The rescue provides wormer and other vaccinations. Once all vetting is done the dog is available for adoption.
Unfortunately in the rural areas, many dogs and litters of puppies are just dumped or dropped off on a dirt road. Rescues will pick these dogs or puppies up, get them vaccinated, spayed or neutered and take them to a foster home until they are adopted.
Fur Babies Adoptions and Rescue is fortunate to have several foster homes, one that takes up to 13 puppies at a time. When these pets are ready for a home, they go to adoption events for potential adopters to meet. Dogs and puppies should never be adopted if they have not had their required shots, been wormed and have been sterilized or have it scheduled if they are a puppy. The adopters have to take the responsibility to keep vaccinations current from the time of adoption throughout the dog's life.
All of Fur Babies dogs and puppies over 6 months old are also tested for Heartworms. At this time we have 2 dogs that are heartworm positive. One has been adopted, one is in treatment. Both dogs will receive the treatment needed at the expense of Fur Babies. We will not adopt a dog to anyone when we know they are in need of medical attention unless we take responsibility for veterinary expenses. That is what a responsible rescue does.
Check out Fur Babies website and their Facebook Page Fur Babies Adoptions and Rescue.
Comments or questions are welcome.