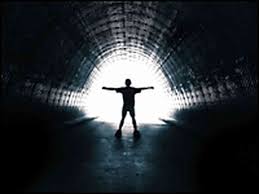 By Kristi O'Toole
We've all heard someone say, 'My life flashed before my eyes', almost always at the time of a traumatic experience. Let's define traumatic. Perhaps a person is drowning but is rescued just in time, or you swerve your car away from danger at the last second. But what if a person isn't that lucky? What if they can't steer to safety and are involved in a horrific accident and could not live without intervention, or they're not pulled from the water in time and need resuscitation? That would be a near death experience.
Every year thousands of people experience near death situations, and a large portion of those claim to have gone through something they cannot explain. They see deceased loved ones, or decribe traveling through a dark tunnel into a bright light. Christians and those of religious background tend to believe this is a peek into Heaven while some doctors and scientists tend to offer up another explanation calling them vertical hallucinations.
In a study conducted between 1959 and 1973 by the parapsychologists Karlis Osis and Erlendur Haraldsson, they reported that 50% of the tens of thousands of individuals they studied in the United States and India had experienced deathbed visions. Osis and Haraldsson and other parapsychologists such as Raymond Moody have interpreted the reports as evidence for an afterlife. While Osis and Haraldsson believe firmly in an afterlife, neurologist Terence Hines has written that the proponents of the afterlife interpretation grossly underestimate the variability among the reports. Hines also criticized their methodology of collecting the reports: "The way in which the reports are collected poses another serious problem for those who want to take them seriously as evidence of an afterlife. Osis and Haraldsson's (1977) study was based on replies received from ten thousand questionnaires sent to doctors and nurses in the United States and India.
Only 6.4 percent were returned. Since it was the doctors and nurses who were giving the reports, not the patients who had, presumably, actually had the experience, the reports were secondhand. This means they had passed through two highly fallible and constructive human memory systems (the doctor's or nurse's and the actual patient's) before reaching Osis and Haraldsson. In other cases (i.e., Moody 1977) the reports were given by the patients themselves, months and years after the event. Such reports are hardly sufficient to argue for the reality of an afterlife."
Arguments between paranormal enthusiasts and scientific professionals are nothing new. Nearly every paranormal television show, obviously for entertainment value, pit the two against each other week after week. Where one sees an orb the other sees dust; where one sees a Bigfoot the other sees a stump.
But what of the people who believe with all of their hearts they have experienced something of a paranormal or celestial nature? Here are a few of their accounts, I'll leave it for you to decide.
The case of Jazmyne Cidavia-DeRepentigny of Hull Georgia: She died on the operating table during surgery in late 1979 after receiving too much anesthetic. "I must say that this experience was quite unsettling to say the least. I was floating over my body. I could see and hear everything that was being said and done. I left the room for a short while and then returned to where my body lay. I knew why I died. It was because I couldn't breathe. There was a tube down my throat and the medical staff did not have an oxygen mask on my nose."
What happened to the famous novelist Ernest Hemingway is an example of the typical brief or initial near-death experience. During World War I, Hemingway was wounded by shrapnel while fighting on the banks of the river Piave, near Fossalta, Italy. He convalesced in Milan. In a letter from there to his family, he made this cryptic statement: "Dying is a very simple thing. I've looked at death and really I know." Years later, Hemingway explained to a friend what had occurred on that fateful night in 1918 . "A big Austrian trench mortar bomb, of the type that used to be called ash cans, exploded in the darkness. I died then. I felt my soul or something coming right out of my body, like you'd pull a silk handkerchief out of a pocket by one corner. It flew around and then came back and went in again and I wasn't dead anymore."
Next is a case of a haunting, and of an experiencer assaulted by entities awaiting her arrival in the tunnel. But there is more to the story of Sandra H. Brock of Staunton, Virginia, than first glance reveals – proof that one cannot judge a near-death scenario solely by its description. You must investigate before and after conditions in the person's life to reach any kind of meaningful context within which to consider the experience. "I had a stomach stapling in 1980 and, in the process, had to have a deformed spleen removed. I hemorrhaged on the operating table, and the doctor said that at three times he thought he was going to lose me.
The first day after surgery I had to have transfusions. During one of the transfusions I started feeling really weird. I felt like if I shut my eyes I would never open them again. I called a nurse. Of course, she said it was all in my head, and left the room. I remember she just walked out the door and I started being pulled through a tunnel. It was a terrible experience because all I could see were people from my past, people who were already dead, who had done or said something to me that had hurt me in one way or another. They were laughing and screaming, until I thought I could not stand it. I begged and begged that I be allowed to go back. I could see a light at the end of the tunnel but I never really got close to it. All of a sudden I was back in my bed, just thankful I had not died."
While I understand the human brain is the most powerful computer on the planet, and that it is capable of manufacturing magnificent events, I am inclined to believe in life after death and near death experiences. Of course I'll never know for sure until it's my time to go. Many years from now … many, many years from now. (Wanted to clarify in case someone from the other side is reading this)
Next time I'll discuss the mysterious booms that plague South Carolina.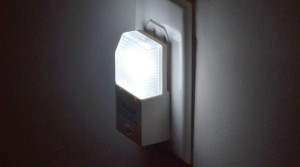 Until then, leave the night light burning.
Comments or questions are welcome.