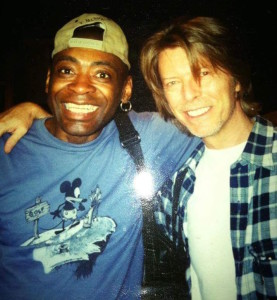 By "Bad" Brad Berkwitt
Sad news to report. Drummer Dennis Davis has died from lung cancer which long time producer Tony Visconti s posted on Facebook.
"Dennis Davis has passed away," Visconti wrote. "He was one of the most creative drummers I have ever worked with. He came into David Bowie's life when we recorded some extra tracks for Young Americans and stayed with us through Scary Monsters and beyond."
Davis also played on Bowie's Station to Station, Low, "Heroes," Stage, and Lodger. Aside from the Thin White Duke, his other collaborators include Jermaine Jackson, Roy Ayers, Stevie Wonder, and Iggy Pop, for whom he played on his Berlin album The Idiot.
NewzBreaker extends our condolences to the Davis family in their time of grief.
Comments or questions are welcome.