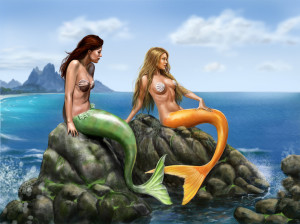 By Kristi O'Toole
Disney's 'The Little Mermaid' is a sweet and heartwarming tale of a mermaid falling in love, battling evil to be with her prince, and living happily ever after as a human. We've all seen it and on some level, loved it. I know I still walk around singing, 'Under the Sea,' but them I'm a sucker for hopeless romanticism.
There are however other stories of mermaids out there. In Hans Christian Andersen's tale, the young mermaid has her tongue cut out, gets her heart shattered by the prince when he chooses another woman, and eventually dissolves into sea foam instead of saving her own life by ritualistically stabbing said prince through the heart and bathing in his blood. For real. That is seriously not an exerpt from one of my twisted novels.
Makes me question Starbuck's choice of logo. But since we've heard enough about their cups to last us a lifetime, I'm willing to let it go.
Despite Disney's feeling on the subject, relations weren't always so good between our two species. According to early records of these creatures, mermaids have largely been thought of as hell bent on seducing sailors into the depths, or just smashing boats with storms if they're not really feeling like 'life-ing' that day.
It leaves me wondering how there could be two completely opposite views on these mythical beings. I guess the best way to figure that out is to start at the start; where did the legend of the mermaid come from in the first place?
According to Terry Breverton in his book Phantasmagoria: A Compendium of Monsters, Myths, and Legends, before there were mermaids, there was a merman by the name of Ea. This merman was the Babylonian god of the sea. He had the lower body of a fish and upper body of a human, and was one of the handiest critters around. He brought humankind the arts and sciences while also finding the time to battle evil. And because he was associated with water, he was the patron god of cleaners. A bit silly but there you have it. Ea would later be adopted by the Greeks as Poseidon and the Romans as Neptune.
The earliest mermaid like figure was likely the ancient Syrian goddess Atargatis, who watched over the fertility of her people, as well as their general well being. She too was human above the waist and fish below it, and was accordingly associated with water. The Syrians bestowed Atargatis with the biggest and most lavish temple they could muster, which came complete with a pond of sacred fish. I'd wager a guess it was nicer than the koi fountain at my local Chinese restaurant; despite my many coin sacrifices I can't seem to see any extra luck being bestowed upon me. Meh.
Then there were the Nereid's. These were nymphs recognized as half-human half-fish mermaids, though "the portion of the body that resembles the human figure is still rough all over with scales," according to Roman naturalist Pliny the Elder. He notes that Legatus of Gaul once wrote to Emperor Augustus claiming he found a "considerable number" of them "dead upon the sea shore." Pliny also mentions "sea-men," who when night falls "climb up into ships; upon which the side of the vessel where he seated himself would instantly sink downward, and if he remained there any considerable time, even go under water."
Similar shenanigans are echoed in the sirens of Greek mythology, which variously were presented as beautiful women, half bird half women, and as mermaids. These lovelies would lure men to their deaths with some sexy singing. Just ask Odysseus. He had his men strap him to the ship's mast to avoid falling victim as they passed the island of the sirens, while his men plugged their ears with wax. I don't know, sexy singing seems like a pretty good skill to possess if you ask me.
And so mermaids entered European mythology with conflicting personalities. Sometimes they were portrayed as beautiful, seductive maidens, almost goddesses like Atargatis, greatly desired by lonely sailors, while also being cast as siren beasts that dragged men into the black depths of their deaths. But whatever the portrayal, mermaids wound their way deep into the nautical lore of the Middle Ages onward.
With all the reported cases of people going missing at sea, I now wonder if they actually went missing or if they were taken at sea.
Many early documented sightings of mermaids with long flowing hair have been dismissed as misidentification and were actually manatees draped in seaweed. (blank stare). I'm not sure how many of you have actually seen manatees, but mistaking one for a sexy mermaid seems beyond all realms of possibility. But it can't be all bad, I mean if a manatee has the figure of an aquatic siren then there's still hope for me yet.
While I'd love to believe in the existence of mermaids, I'm going to have to take a pass on this one. Nothing personal, just more because it isn't a topic that has ever really interested me; though I did start a supernatural book about mermaids a few years back. Never finished it.
Next time I'll discuss near death experiences and their aftermath.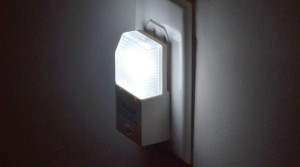 Until then, leave the night light burning.
When Kristi isn't writing for NewzBreaker, she writes supernatural suspense novels having three currently published. If you would like to check out any of her books they can be found online and at other major retailers like Books a Million and Amazon. Never one to rest, she also paints/designs shoes and items for the home. Check out her eBay store, Watered Down Vodka and her FB page.
Comments or questions are welcome.