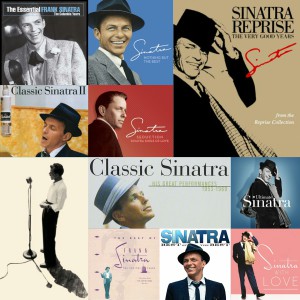 By Jerry Pearce
Walking into the average department store in the present day, you may find that two distinct themes exist in the gradually shrinking music section of a majority of retailers. Under each alphabetized artist card, you'll find a few of their past classic albums for sale, along with about a dozen copies of an album featuring a compilation of their greatest hits. For an artist as timeless as Frank Sinatra, he proves to be no exception to this theme. It was through a compilation disc like such that I began a musical journey from casual Sinatra listener to die-hard fandom.
When I was in my early teens, my grandfather retired from commercial truck driving. For a fellow who spent the better part of thirty years driving the highways of America to support his family, retirement meant boredom. To alleviate all the free time that had opened up in his schedule, he started taking under the table jobs delivering supplies across the tristate area with his own truck. I would join him on these trips, and together we'd hit the road with, strangely enough, the same compact disc always playing on repeat in his Chevy Silverado. I was thirteen years old.
The disc was called Sinatra Reprise: The Very Good Years
I was raised in the kind of Italian-American household where the main music on tap was Italian, mainly opera. My father's hero was Luciano Pavarotti, and having been subjected to the sound of that tenor's voice since the womb, it wasn't long before arias found their way into my heart as well. Then unexpectedly came the car rides with Grandpa, and the introduction to standards and big band. I don't remember when I first learned of Frank Sinatra, but he was engrained in my brain as the man who sang the "Theme from New York, New York," a catchy tune about one of the world's greatest cities, one that you couldn't help but enjoy, no matter what age you were. Realizing you have a voice suitable to sing along with the man didn't hurt, either.
"New York, New York" is featured as track twenty on Sinatra Reprise and is probably the signature song most associated with Sinatra to a vast musical audience. Even for people who don't normally listen to Frank know who the artist singing is, when the familiar big band vamp strikes up. Arranged by veteran Don Costa, the show-stopping Fred Ebb-John Kander tune from the 1977 film of the same name by Martin Scorsese was a major hit for Sinatra (1979) during the Reprise era, known as the third and final phase of his illustrious recording career.
Sinatra began his association with Columbia Records in 1943, recording hundreds of tunes and beginning his tradition of concept albums (collections of music centered around a certain feeling or topic) before being let go due to dwindling sales in 1952. A year would pass before he was signed with Capitol Records, and it was there he would experience his most successful period (1953-62), recording a dozen albums (carrying the concept theme with him) with three primary arrangers (Nelson Riddle/Billy May/Gordon Jenkins) before leaving to pursue his own artistic freedom with his own label, Reprise, founded in 1960.
Finishing his contractual obligation with recordings at Capitol while simultaneously creating new music for his label, the Reprise era (1960-84) was perhaps his most creative, if not most successful, period, featuring work with multiple arrangers (Neal Hefti/Sy Oliver/Johnny Mandel/Quincy Jones/Claus Ogerman/Jimmy Bowen) across a series of spectacular albums, not to mention guest artists and orchestras (Nancy Sinatra/Antonio Carlos Jobim/Duke Ellington/Rod McKuen). Reprise would later join forces with Warner Brothers to become one of the most formidable labels in popular music, serving as a source of creative output for Sinatra and a bevy of his fellow artists for years to come.
Three distinct periods of music by one artist makes for multitude of recordings, and there were several notable songs in each era considered landmark performances by the Chairman. While each label would release expensive box sets featuring complete presentations of all the material Sinatra recorded for their companies, there were also smaller, truncated releases priced for the more modest consumer, one who enjoyed/enjoys Sinatra beyond his greatest hits but not feeling the need to own EVERY recording.
The amount of "greatest hits" discs released in the intervening years (including public domain) most likely number into the hundreds (the most dedicated Sinatra fan will probably be balking "what about that other one I own?"), but the following outlines the most well-known compilation titles released by the three labels in the last twenty years or so. For someone looking for to discover Sinatra on a budget, any of these titles are perfect to hear the best samplings of Frank's voice in each era, in particular, the latest releases.
Columbia/Legacy Records began the trend by releasing a Sinatra title as part of their "Essential" artists collection, The Essential Frank Sinatra: The Columbia Years
It contains fifteen tracks, focusing on the better part of his formative years of Columbia output, though many of the titles were later re-recorded in what fans consider more superior versions at Capitol and Reprise, including the classics "I've Got A Crush On You" and "One For My Baby." This release stands as a good testament to Sinatra's evolution as a singer, rather, his getting better as he matured, especially when two versions of one song are compared from an early era to a later era.
An expanded release, titled Portrait of Sinatra: Columbia Classics was also released, adding an additional twenty-one tracks of Columbia output to form a two-disc, 36 track best-of collection, featuring an iconic sepia toned cover of Frank entertaining troops during the Second World War.
Over at Capitol, the first compilation disc released was The Best of Frank Sinatra: The Capitol Years, which hit stores in 1992. In 2000, a revamp disc, Classic Sinatra: His Greatest Performances 1953-1960, would arrive on the market. Similar to the earlier Capitol disc but featuring a slightly different musical program, this disc would be one of the sole compilation discs available in stores throughout the better part of the first decade of the twenty-first century. For a long period, it was the only Sinatra disc available in most retail stores.
On the Reprise front, the 1990s saw the release of two collections of Sinatra music, the first being Frank Sinatra: The Reprise Collection, a four-disc, 81 track collection, featuring a good deal of his later recorded output, along with the disc that began this article, Sinatra Reprise: The Very Good Years, a twenty track collection pared down from the eighty-one tracks of The Reprise Collection. For those who couldn't afford the exorbitant price of a complete collection (sold in a stylish brown suitcase for nearly $500), the two smaller Reprise titles were among the most sought after sets released, especially after Sinatra's death in 1998.
They would remain the two best reviewed compilations of his music at his own label until the tenth anniversary of his death in 2008. To coincide with the release of a new United States postage stamp featuring his likeness, a new compilation disc, Nothing But The Best, was released. The track listing is similar to the earlier Sinatra Reprise, with a few new additions, including a newly recorded orchestral version of "Body and Soul" featuring a 1984 vocal by Frank digitally added to the arrangement. This song alone makes the release worth purchasing. A few months later, Reprise was back at it for Valentine's Day, releasing another compilation disc Seduction: Sinatra Sings of Love, featuring a completely new musical program, culling titles from many of Frank's 60s and 70s albums.
Looking to join in on the new Sinatra product entering the market, Capitol reentered the scene by producing a release of its own, a sequel of sorts to its earlier Sinatra disc, this one titled Classic Sinatra II, featuring even more of his 50s output while working for the Hollywood-based label.
The better part of the 2000s would see titles produced featuring songs from more than one record label, with songs being repeated from earlier releases, but forming a more comprehensive collection of music in one package. The first of these released was Best of the Best, a double compilation released in 2011, featuring music from both the Capitol and Reprise eras, followed by another 16-track collection of Capitol/Reprise material in 2014, entitled Sinatra With Love.
Bringing us to the present day, the centennial year of Sinatra's birth saw the release of Ultimate Sinatra in April of 2015. Seemingly an attempt to replace earlier sets on the market, Ultimate Sinatra is the first box set of Sinatra material that features songs recorded at all three labels, the most comprehensive, if cherry-picked, representation of Sinatra music ever released. The largest set features 100 songs, including an unreleased rehearsal version of a song he attempted in the late 70s (Surrey With The Fringe On Top), while two other versions were released for the more budget minded, a one disc version pared down from the four discs, as well as a special version at Target stores featuring a bonus disc of a December 1961 concert in Sydney, Australia.
Confused yet? I am a bit, and I wrote this!
In closing, if you want to discover the voice that is Frank Sinatra, search out any of the titles listed in italics. The odds are high that with each title, you'll be hearing something new, and even higher that you'll be pressing the repeat button often. Sinatra songs are like love stories, some happy, some sad, but stories that you'll want him to tell you musically, over and over again.
Hopefully, you'll be as impressed as I was at the age of 13. Happy listening!
Jerry Pearce is an amateur singer in the vein of Frank Sinatra, Perry Como, and Dick Haymes and has released two discs of standards music, Crossroads in 2010, and One Summer Night in 2016. Samples of his music can be heard on his YouTube Channel. To purchase his CDs use the form box below.
Comments or questions are welcome.