Loading ...
By Kristi O'Toole
"Some people call me Nessy, some people just don't know. Some people wait for days and days to see if I'm going to show. I've been around for ages, much longer than you think. But when I swim across the loch you'll miss me if you blink." (A child's poem)
From the dawn of time there have been stories of monsters and creatures that lurk in the darkness of the forests or depths of the oceans. While the foundations of some of these creatures are built on evidence and hardcore truths, others are based purely on myth and make believe.
I've been told by some that they believe the mighty Sasquatch was created by Native Americans as a way of keeping their children in line and out of woods. What if other such proposed mythical creatures have also been created as a means to control unruly children, or perhaps more logically to warn off enemies and invaders?
This brings me to Loch Ness; if you've never seen it in person then you may not understand why someone would create a monster to scare outsiders away and keep it protected. In 2006 I had the immense pleasure of visiting the famous loch, and while I was only there for the afternoon, if I could, I would have created a beast to scare others away and if for no other reason than to keep her beauty all to myself.
But what if the Loch Ness monster isn't a myth? What if this magnificent creature swims the waters of the loch, spending her days hiding in the murky depths and her nights feasting on the bountiful fish?
If Nessie isn't a myth, then what is she? The most common speculation among believers is that the creature represents a line of long surviving plesiosaurs. Much of the scientific community regards the Loch Ness Monster as a modern day myth, and explains sightings as including misidentifications of more mundane objects, outright hoaxes, and wishful thinking. Despite this, she remains one of the most famous examples of cryptozoology. The legendary monster has been affectionately referred to by the nickname Nessie since the 1950s.
The earliest report of a monster associated with the vicinity of Loch Ness appears in the Life of St. Columba by Adomnan, written in the 7th century. According to Adomnan, writing about a century after the events he described, the Irish monk Saint Columba was staying in the land of the Picts with his companions when he came across the locals burying a man by the River Ness. They explained that the man had been swimming the river when he was attacked by a "water beast" that had mauled him and dragged him under. Logically speaking, this cannot possibly be the same monster. But who's to say there hasn't been a family procreating throughout the generations?
Modern interest in the monster was sparked by a sighting on 22 July 1933, when George Spicer and his wife saw 'a most extraordinary form of animal' cross the road in front of their car. They described the creature as having a large body (about 4 feet (1.2 m) high and 25 feet (7.6 m) long), and long, narrow neck, slightly thicker than an elephant's trunk and as long as the 10-12-foot (3-4 m) width of the road; the neck had undulations in it. They saw no limbs, possibly because of a dip in the road obscuring the animal's lower portion. It lurched across the road towards the loch 20 yards (20 m) away, leaving only a trail of broken undergrowth in its wake.
From that moment, the sightings of Nessie (Nessy) have flooded in. It seems everyone on holidays in Scotland have a run in with the mysterious lizard, of course 99.9% of those sightings are mere wishful thinking.
In 1960, aeronautical engineer Tim Dinsdale filmed a hump crossing the water leaving a powerful wake. Dinsdale allegedly spotted the animal on his last day hunting for it, and described the object as reddish with a blotch on its side. When he mounted his camera the object started to move and said that he shot 40 feet of film. JARIC declared that the object was "probably animate". Others were sceptical, saying that the "hump" cannot be ruled out as being a boat, and claimed that when the contrast is increased a man can be seen in a boat.
There is however remaining hope as to the existence of Nessie. In 1993 Discovery Communications made a documentary called Loch Ness Discovered that featured a digital enhancement of the Dinsdale film. A computer expert who enhanced the film noticed a shadow in the negative that was not very obvious in the positive. By enhancing and overlaying frames, he found what appeared to be the rear body of a creature underwater. He commented that "Before I saw the film, I thought the Loch Ness Monster was a load of rubbish. Having done the enhancement, I'm not so sure". Some have countered this finding by saying that the angle of the film from the horizontal along with sun's angle on that day made shadows underwater unlikely. Others pointed out that the darker water is undisturbed water that was only coincidentally shaped like body. The same source also says that there might be a smaller object (hump or head) in front of the hump causing this.
Sightings and videos as recent as 2012 have been studied by experts and without a moments hesitation immediately dismissed as false sightings or fakes; I'm beginning to wonder if these so called experts even take any reports at all seriously anymore.
I mean, why couldn't Nessie be real? The conditions of the loch are ideal for the survival of such a creature. The internet is full of believers and skeptics, as for me and my house, we will continue to believe that Nessie is very much alive and real. If I were labeled a 'monster', I'd hide from the humans too. Just one day ago Google Earth captured what people are believing is the Loch Ness Monster, that's all the proof I need.
Next time I'm going to explore the Amityville Horror, think you've heard it all? Think again.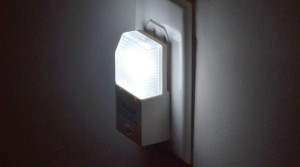 Until then, keep the night light burning.
When Kristi isn't writing for NewzBreaker, she writes supernatural suspense novels having three currently published. If you would like to check out any of her books they can be found online and at other major retailers like Books a Million and Amazon. Never one to rest, she also paints/designs shoes and items for the home. Check out her eBay store, Watered Down Vodka and her FB page.
Comments or questions are welcome.