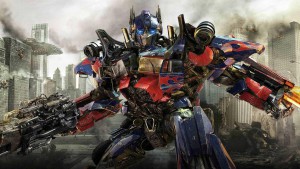 By Kristi O'Toole
Fellow nerdists will be thrilled to hear the new Transformers trilogy will only be the beginning of Paramount's plans. Last year, Paramount established a writers room for the "Transformers Cinematic Universe" with The Walking Dead creator Robert Kirkman, Zak Penn (The Avengers), Jeff Pinkner (Fringe), Steven DeKnight (Daredevil), and several other screenwriters with eye towards nine additional films. There is also a Transformers animated movie in the works that will reportedly explore the origins of their homeworld, Cybertron.
First up will be Transformers 5, which is once again set to be directed by Michael Bay. This is reportedly Bay's final turn as the Transformers director, but he's said that for the previous two films in the series as well, so who knows? The accelerated production schedule of the sequels may finally indicate Bay's departure to work on other projects. Transformers 5 will also feature the return of Mark Wahlberg's Cade Yeager from Transformers: Age of Extinction. The release date chosen by Paramount is June 23, 2017, which just so happens to be the opening date of Warner Bros.' live-action Wonder Woman film. That's a bold move by Paramount, but one in my opinion will pay off as Transformers 5 could very well come out on top in that match up. At the end of the day, there's only one Lynda Carter.
Transformers 6 has been set for June 8, 2018, and we'll get Transformers 7 on June 28, 2019. While we knew we were in store for a lot of Transformers movies and that the franchise has no end in sight, it's still a little surprising to see Paramount want to date Transformers movies for three consecutive years. I for one am not complaining.
When Kristi isn't writing for NewzBreaker, she writes supernatural suspense novels having three currently published. If you would like to check out any of her books they can be found online and at other major retailers like Books a Million and Amazon. Never one to rest, she also paints/designs shoes and items for the home. Check out her eBay store, Watered Down Vodka and her FB page.


Comments or questions are welcome.