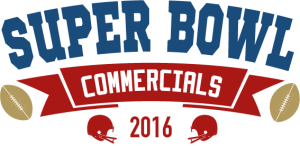 By Dave Siderski
Well the biggest sporting and television event of the year has come and gone. This year's Super Bowl between the Denver Broncos and the Carolina Panthers was ok to watch but hardly spectacular. I could say the same about the commercials that aired during the course of the game. The vast majority didn't get my attention and none were nearly as memorable as my two favorites of all-time: Reebok's "Terry Tate: Office Linebacker" which aired during Super Bowl XXVII in 2003 and last year's Snickers commercial featuring Danny Trejo as a cranky version of Marcia Brady. That said, there were a few gems in this year's crop worthy of mention. So here are my top five commercials of Super Bowl 50, along with one I found utterly annoying.
#5) Bigger Than: Taco Bell
This commercial wasn't nearly as enjoyable as the following four which I felt were truly outstanding. However, it was the "best of the rest" and thus comes in as my #5. I have no idea what Taco Bell was referencing but whatever it was is going to be bigger than: "Tinder, Drone's, Aliens, Football, Futbol and James Harden's feet. That's pretty damned big I guess. They could have been really clever and put a reference to Ron Jeremy in there somewhere as well. Ok, that part of it wasn't great but the cameos were cool, including appearances by Ronaldo, James Harden, and George Takei. For me it was the "Law Hawk" guy that ultimately pushed this one into my top five.
#4) Shock Top Unfiltered Talk: Anheuser-Busch
You know you've had a few too many when you get into an argument at the bar with a beer tap……and the beer tap wins. This commercial was original and very funny. Our resident dork walks into a bar completely unprepared for the difficult evening that lies ahead. He barely gets a sip in when the caustic "Shock Top" beer tap starts ranking on him. Among the zingers it gets off: "You look like an unemployed civil war general………You look like you were evicted from your parents basement…….You look like you lean on your Pet Turtle for emotional support…….and……..you peaked in middle school". Note our resident dork doesn't dispute any of these so it looks like our beer tap is also a great judge of character. He tries to fight back but is overmatched from the beginning of this one. Finally the beer tap scores the knockout blow: "This loser walks into a bar. It's called right now". Our resident dork is rendered frozen and speechless.
#3) Hulk vs Ant-Man: Coke Mini
I'm not a big superhero fan but this commercial was hilarious. Ant-Man sneaks into Bruce Banner's lab and steals his last can of "Mini Coke". An enraged Bruce turns into the "Hulk" and the chase is on. Ant Man is elusive and clever, but like Floyd Mayweather, JR. in the ring is completely on the defensive. The Hulk finally corners him. Now, at this point, I'm waiting for a showdown between David and Goliath. But Ant-Man wisely waives the white flag of surrender and gives the mini coke back to the Hulk. However, the Hulk's fingers are too damn big and he can't figure out how to open the can. To the rescue comes Ant- Man who pops the top on the can while stealing a small sip for himself. The commercial ends with Ant-Man throwing out a comment about Hulk's big green eyes. I'd prefer not to know what these two super heroes did next. Some things should just stay behind closed doors.
#2) Snickers Big Game Ad: Marilyn
Leave it to Snickers! They manage to come up with a winner of a Super Bowl ad each and every year. Now this one isn't quite as good as last year's Brady Bunch spoof but it was still excellent. This year Snickers dressed Willem Dafoe in Marilyn Monroe's white dress and high heels in a recreation of Marilyn's classic scene in the "Seven Year Itch". A cranky Willem/Marilyn rails on: "This is a disaster, who's the genius who puts a girl in heels on a subway grate". To the rescue comes the director with a Snickers bar and Marilyn is immediately transformed into her beautiful and sultry self. Then comes the classic scene that scene that spawned a million sexual fantasies and probably a few trips to the ER as well. Who needs Viagra when you have Marilyn Monroe! Finally, the commercial cuts to Eugene Levy who opines: "This scene will never make the cut". Only Eugene Levy would say something like that!
#1) The Commander: Audi
This commercial made me want to run right out and buy the new Audi R8. The aging "Commander" sits in his living room trying to escape his drab existence and dreaming of his halcyon days when he was an astronaut travelling to the moon. The forlorn look on his face expresses his deep sadness of never being able to experience that exhilaration again. Even Marilyn Monroe can't help with this one. Then his son comes to visit with a very special present. "The Commander" steps outside and sees the new Audi R8. His face immediately lights up like a Christmas tree. Listening to the roar of that engine and watching "The Commander" behind the wheel, I could feel the adrenaline rush as I were stomping on the gas pedal and having my head sucked back into the seat. David Bowie's "Starman" plays in the background completes the experience. This Audi commercial was, by far, the best of this year's Super Bowl!
I've Heard Enough of This Commercial!!!! Super Bowl Babies
Some said this commercial, produced by the NFL was the best of this year's Super Bowl. I strongly disagree. It starts with "Data Tends to Suggest" that more babies are conceived on Super Bowl Sunday than average. Now forgive me, I can't resist the dig here. In light of the NFL's handling of this year's PSI data and Commissioner Roger Goodell's "the dog chewed my homework" excuse for not making it available to the public, I am led to question the accuracy and validity of any statements data-related statements provided by the NFL.
That said, the commercial doesn't start out to badly and the jingle is cute. But the commercial and the jingle go on, and on, and on, and on to the point where I was saying to myself: "enough already". Making matters worse: "They played it over, and over, and over, and over again". Guys, once was enough. Finally, I was forced to roll my eyes at the: "Football is Family" graphic at the end of the commercial. Don't get me wrong, I love football but let's be real here.
Overall, I'll give this year's class of Super Bowl commercials a C+. We'll see what the advertisers come up with next year. I can't wait to see Snickers next "big game" commercial. Perhaps Donald Trump as an angry version of Mother Teresa?
Comments or questions are welcome.