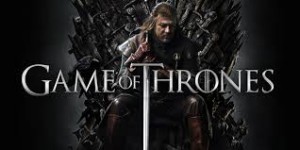 By Kristi O'Toole
Easily one of the most popular current drama series, Game of Thrones is set to return to HBO for a sixth season April 24th. For those who haven't seen the fifth season and are looking to avoid spoilers, consider this your official spoiler warning.
During last season's finale, Sansa Stark and Theon Greyjoy were seen jumping off the castle wall at Winterfell. Like most finales, the show ended with their statuses unknown, but it's now clear in recently released photos that they are both very much alive. Other important takeaways from the photos include that Arya Stark is indeed still blind and poor Myrcella Baratheon is very much dead. Like her older brother Joffrey, she was poisoned and left for dead at the Red Keep.
There are also some unknown characters included in the mix, as well character shots of Daenerys Targaryen, Tyrion Lannister and a shot of a much older Bran standing beside Max Von Sydow as the Three-Eyed Raven.
It is still unclear as to whether Jon Snow will return, however if HBO wants to keep the vast majority of their female viewing audience, he indeed will.
When Kristi isn't writing for NewzBreaker, she writes supernatural suspense novels having three currently published. If you would like to check out any of her books they can be found online or at other major retailers like Books a Million and Amazon. Never one to rest, she also paints/designs shoes and items for the home. Check out her eBay store, Watered Down Vodka and her FB page.
Comments or questions are welcome.