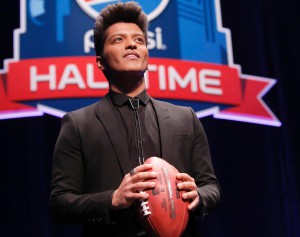 By Kristi O'Toole
Bruno Mars confirmed that he will indeed join Coldplay and Beyonce on the Super Bowl 50 halftime stage this Sunday. The "Uptown Funk" singer made the announcement on his Instagram account Friday afternoon by saying, "It ain't a party if Mr $how Up & $how out doesn't show up." He captioned a photo of himself near the stage at Levi's Stadium. Mars joins an already smoking hot musical roster for the big game. Lady Gaga will sing the national anthem before the game, and everyone from Adele to Guns N' Roses have been rumored as further additions to the halftime show.
This is Mars' second Super Bowl performance, for Super Bowl XLVIII in 2014 he shared the stage with the Red Hot Chili Peppers.
The halftime show stage is known for hosting high profile collaborations. Last year, Katy Perry's halftime performance was bolstered by cameos by Missy Elliott and Lenny Kravitz. When Beyonce headlined the event in 2013, she was briefly joined by Destiny's Child bandmates Kelly Rowland and Michelle Williams.
When Kristi isn't writing for NewzBreaker, she writes supernatural suspense novels having three currently published. If you would like to check out any of her books they can be found online other major retailers like Books a Million and Amazon. Never one to rest, she also paints/designs shoes and items for the home. Check out her eBay store, Watered Down Vodka and her FB page _______.
Comments or questions are welcome.