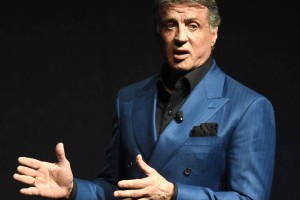 By Chris Benedict
Super fans of the multi-film Rocky and Rambo franchises will want to keep close watch on their superfluous expenditures for the next few months. That is because they will want to have plenty of cash on hand come October 14th and 15th when Heritage Auctions hosts the public sale of original movie props from the two beloved series. Besides John Rambo's jacket and bowie knife, Sylvester Stallone will be parting as well with Rocky Balboa's Italian Stallion robe, ring trunks, gloves, and Harley Davidson motorcycle.
Stallone, now 69 years old, is currently at work on yet another Rambo installment, allegedly and hopefully the last, while the trailer recently premiered for November's torch-passing Rocky movie Creed, wherein an aged Balboa trains Apollo's son, played by Michael B. Jordan (Fruitvale Station). So, this may be a symbolic, closet-cleaning case of out with the old, in with the new.
Stallone has corralled himself for decades into stereotypically mindless action-hero, one-trick-pony territory with only the extremely odd exception like his heart-wrenching performance as the hapless Springsteen-loving Freddy in 1997s Copland.
Undisclosed charities aiding the armed forces will benefit from a percentage of the sales' proceeds, which Sly sees as only fitting, given what he calls his characters' "very American and very military-oriented" images. It is not unheard of for some turtles to live up to 150 years, which makes me wonder if Cuff and Link may still be crawling around their terrarium. If I had the dough to blow, I would love to have them.
Comments or questions are welcome.