Loading ...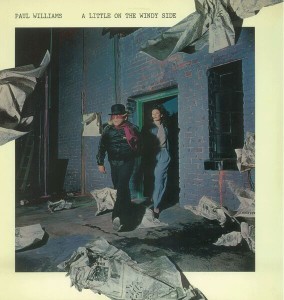 By "Bad" Brad Berkwitt
1981….I was 13 years old and my late father, Alvin, and I were in a record store in North Miami Beach Florida called Coconuts. Dad, was an avid record collector for many years, so I would usually accompany him as we sifted through bins looking for those rare gems and especially what they used to call, cut out records. On this particular day out, I was sifting through the bins and came across an album with a cool cover of a guy who was a massive star in the 70's, but at this point in the early 80's his fame started to wane. This gentleman was none other than, singer/songwriter, Paul Williams. Yes, the one many know from Smokey and The Bandit or his many appearances on The Merv Griffin Show and Johnny Carson Show to name just a few he was a staple on in the 70's.
He also co-wrote Evergreen with Barbara Streisand for the third remake of A Star Is Born, a movie that has been panned over the years, and I feel unrightfully so. Barbara and Kris Kristofferson ate up the scenery in their version of the 1976 remake.
The record I am alluding to is called A Little On The Windy Side. I didn't know most of the songs, but I did always love a song that appeared in the album called Here's Another Fine Mess. I first heard it in a movie Dad took me to see in 1978, called "THE END" starring and directed by Burt Reynolds, who was also the star of course in Smokey and The Bandit. I picked the album up for a $1.98. Yes, you read that right an album, something that many today are not aware even existed. I have always said, CD's have better sound quality, but albums have a personal touch to them that CD's even if they use the same cover/liner notes don't.
This was an album that was a rarity because it was not a commercial success by any means and if I had to wager, the record company put nothing behind it to promote it. However, every song is a winner from the ones Williams wrote or co-wrote to the one standard he puts his own feel on called Moonlight Become You a song that goes way back to the Bing Crosby days.
Over the years, as I moved, somehow the album got lost, which broke my heart. But…. 36 years after its initial release on Portrait, it is FINALLY out on CD with Bonus Tracks. In fact, it just came out earlier this month. The minute I saw it, I picked it up and was pleased to see that the music still holds up.
A term in our lexicon that is often overused is An American Treasure. Well, in the case of Paul Williams, it cannot be used enough. He truly is, An American Treasure. I cannot recommend this CD enough.