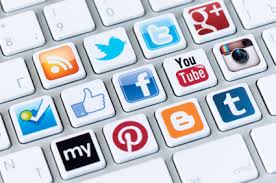 By Andi Goforth
Kid Rock gives his opinion on Beyoncé Knowles and is swarmed by the "Bey-hive", a name affectionately given to her loyal, unwavering fans. Amber Rose and the Kardashian klan engage in Twitter sparring that would make a boxer (and a porn star) blush. Chris Brown's girlfriend Karrueche Tran publicly reacts to his secret child via Twitter. Is there anything that people won't expose on the world-wide web?
Social media certainly has its benefits. People have reconnected with long-lost friends, met new ones, found groups with common interests, and kept abreast of news and topics of interest. People have also used social media as a platform for launching and furthering hobbies and careers. Those are the positive aspects of it. However, there is a down-side to social media, and unfortunately some of the world's most famous celebrities are using it to bash one another and to air their dirty laundry. Nothing good can come of this.
People who enjoy sensationalism may get a thrill from Amber Rose calling Kim Kardashian a whore, or Khloe Kardashian calling Amber Rose a stripper, but what happens when their children grow to the age where they can read of these cyber-wars for themselves? How will these women explain to their children the need for maturity and diplomacy when they aren't displaying it?
Everyone is entitled to their opinions and preferences, but will Kid Rock's child and grandchildren ever feel the outrage that some have expressed when he stated that Beyoncé "didn't do anything for him" because he likes white chicks with big tits? Perhaps he can simply explain that his taste has changed, since the mother of his son (drum roll please)…… just happens to be black.
And then, there are people who feel the need to express their feelings to the world as opposed to their partner, as Chris Brown's girlfriend Karrueche Tran has done when she, despite ignoring his phone calls, used Twitter to wish him and his family "the best of luck", adding "no baby drama for me". Sadly, a conversation between the parties could have easily resolved the issue without Brown's alleged baby girl reading of it years from now.
Is our society so fame hungry and attention starved that we forget the impact of our words and actions on others? Have people forgotten the power of the Internet? Do people not know that once something is posted, there is a permanent record of it, and those posts can rear their ugly heads at the most inopportune times?
Unfortunately, our society has lost a degree of its socialness. Words and actions that would not have been thought of decades ago are common place on social media sites. People may give free reign to expressing themselves with tart words and malicious stories about others. What they fail to realize that those words can possibly come back to haunt them.