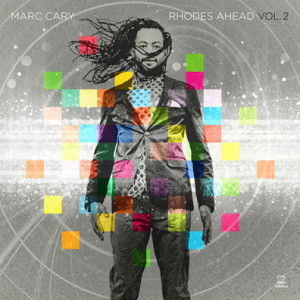 Jazz innovator Marc Cary, voted Rising Star-Keyboardist in this year's 62nd Annual DownBeat Critics Poll, updates one of the most adventurous concepts of his career with the release of Rhodes Ahead Vol. 2 on March 17, 2015, on Motéma Music.
The upcoming album is the long-awaited follow-up to Rhodes Ahead Vol. 1, Cary's breakthrough of 1999 (with its sly allusion to the ubiquitous Fender Rhodes electric piano), in which the former drummer and trumpeter incorporated elements of drum n' bass, electronic funk and R&B, house, Afro-Cuban, ethnic, and the 'go-go' music of his teenage bands in Washington, DC. The result was a savvy, exotic mix that crossed rhythmic bridges between generations, much as his idol Miles Davis had done when he met Fillmore rock audiences head-on three decades earlier.
Rhodes Ahead Vol. 2 brings Cary's vision forward into the heart of today's urban-centric and digital environment. Yet two traditional Moroccan-inspired tracks, "Essaouira Walks" and "Spices and Mystics" percolate with the dense African outcroppings that devoted fans of one of Cary's other projects, Indigenous People, have come to expect from the inventive musical explorer. To the album's core trio of Cary (on Fender Rhodes, Access Virus, Hammond B3, Ableton Push, and programming) reuniting with Rhodes Ahead's co-originators Terreon Gully's drums and bassist Taurus Mateen's bedrock low-end support system, "Spices and Mystics" adds trumpet (frequent collaborator Igmar Thomas), violin (Arun Ramamurthy), guitar (Aurelian Budynek), and percussion (Daniel Moreno).
With the exceptions of "You Can't Stop Us Now" and pianist Harold Mabern's "Beehive" (in which Thomas revisits the original acid jazz classic by trumpeter Lee Morgan), all of the compositions on Rhodes Ahead Vol. 2 are by Cary. Tabla player Sameer Gupta (Cary's long time cohort from his popular Focus Trio) is co-writer of the steamy, sub-tropical "Below the Equator"; and Sharrif Simmons' recitation evokes the legacy of the Last Poets and Gil Scott-Heron on his original "The Alchemist," whose verses are transcribed as the closing track of Rhodes Ahead Vol. 2.
The multi-grooved Cary's dossier includes work with a pantheon of jazz legends, among them Dizzy Gillespie, Art Taylor, Betty Carter, Roy Hargrove, Carmen McRae, and a notable 12-year stint with Abbey Lincoln. Cary is also comfortable in electronic, ambient, and hip-hop surround­ings, and has worked on high profile projects with Q-Tip and members of Wu-Tang Clan (as well as activist alternative rocker Ani DiFranco). Many of those influences were brought out on Rhodes Ahead, which contributed directly to Cary winning the Best New Artist award at the first annual Billboard/BET On Jazz Conference in Washington, DC, June 2000.
The multi-ethnic threads of Cary's music also encompass Native American repertoire, as he explained to DownBeat's Jeff Potter on the occasion of his Critics Poll win last summer. "I grew up in the sweat lodge," Cary said. "We lived in Maryland – the Piscataway Indian Nation headquarters. My mother grew up fighting in the American Indian Movement – the AIM." Back in 2004, Cary told All About Jazz interviewer Phil DiPietro that his mother was actually "a tribal chief of the Wampanoag people. A spiritual chief… Clarence-William Ponce, my great grandfather, was a Wampanoag man who was a marathon runner and swimmer… I have just as much African blood mixed with Indian blood, not to mention Irish and Cape Verdean, there's a hell of a blend and thankfully, my mom traced it."
Born in New York City, 1967, Cary grew up in Washington, DC in the turbulence of the 1970s and '80s. But his was a musical household, and Cary's life was suffused with music from every direction. He was playing drums when he started his first neighborhood band at age 12; when a better drummer showed up, Cary switched to trumpet. He was in a social rehab program for troubled teens when he auditioned for and was accepted to the prestigious Duke Ellington School of the Arts, the professional spawning ground for Dave Chappelle, Wallace Roney, Denyce Graves, and Meshell Ndegeocello, whom Cary jammed with in the school's orchestra.
Cary's attraction to the Fender Rhodes happened at Ellington and crystallized at a benefit concert where Don Cherry was playing with Nana Vasconcelos, and Cary was playing solo at the keyboard. A group called the Front Line Jazz Ensemble heard him and asked him to join, which became a springboard into DC's bustling jazz and neo-soul scene. As he told DiPietro, "My biggest growth period as a jazz musician was from age 16 to 21," and at age 21 he moved to New York City.
Within one year, in 1989, Cary had hooked up with Betty Carter, and made his first European tour as a working jazz musician. From there it was on to Roy Hargrove, where Cary's name appeared in the credits on a succession of the trumpeter's albums starting in 1992 (The Vibe, Of Kindred Souls, Family, RH Factor). Cary left in 1994, and his first album as a leader was issued in 1995, Cary On, featuring Hargrove as a guest, and flutist Yarborough Charles Laws, who would become a regular member of Cary's Indigenous People band.
Today, Cary's critically acclaimed album catalog boasts more than a dozen separate titles under his own name, Indigenous People, his Focus Trio, and the Rhodes Ahead project, three facets of the same imaginative soul. As he told future New York Times jazz critic Nate Chinen in the Philadelphia City Paper back in 2000, "The Indigenous People band is also the Marc Cary Trio which is also Rhodes Ahead." That first volume saw Cary receive kudos from the jazz intelligentsia for artfully combining fleet jazz pianistics and propulsive/convulsive rhythms from the realms of drum and bass, Indian ragas, and Malian griot music. In the profound words of writer, musician and producer Greg Tate, "the tradition of a supple and virile Black futurism is abundantly evident on Rhodes Ahead Vol. 2."
MARC CARY ON TOUR
January 17 /The Cell (Marc Cary residency) /New York, NY
January 23-24 / Ginny's (Harlem Homecoming) /New York, NY
January 30 / Sandy Spring Museum (Solo) / Sandy Spring, MD
January 31 / The Cell (Marc Cary residency) / New York, NY
February 14 / The Cell (Marc Cary residency) / New York, NY
February 21 /The Cell (Marc Cary residency) / New York, NY
February 25 / Portland Jazz Festival (Solo) / Portland, OR
March 5 / Kuumbwa Jazz (Focus Trio presents RAV2) / Santa Cruz, CA
March 7 / Jazz Winterfest (Focus Trio presents RAV2) / San Jose, CA
March 13 / Theatre Victor Hugo (Focus Trio presents RAV2) / Bagneux, France
March 14 / tbd (Focus Trio presents RAV2) / Nice, France
March 15 / LantarenVenster (Focus Trio presents RAV2) / Rotterdam, Neth.
March 17 /Le Cheval Blanc (Focus Trio presents RAV2) / Schiltingheim, France
March 18 / Fasching (Focus Trio presents RAV2) / Stockholm, Sweden
March 21 / tbd (Focus Trio presents RAV2) / Bari, Italy
April 10-11 / Bohemian Cavern (RAV2 Launch) / Washington, DC
April 24 / Art Of Cool Festival (Focus Trio presents RAV2) / Durham, NC
April 25 / Sidedoor (RAV2 Launch) / Old Lyme, CT
May 9 / Kennedy Center "Harlem Nights, U Street Lights" / Washington, DC
May 10 / Apollo Theatre "Harlem Nights, U Street Lights" / New York, NY
May 23 / Jazz In The Round (Focus Trio presents RAV2) / London, England