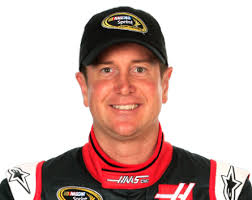 By Bob Price
NASCAR driver Kurt Busch, known as 'The Outlaw', testified in court that his estranged girlfriend, Patricia Driscoll, is actually an international assassin who has carried out deadly missions around the world.

Busch was in court in regard to a no-contact order sought by Driscoll. There are also separate criminal charges against Busch involving claims by Driscoll that he choked her and slammed her head against a wall.
Busch said that Driscoll claimed throughout their relationship that she was a trained assassin, and had showed him pictures of bloody bodies with gunshot wounds. He said she once left their residence in Texas dressed in camouflage and returned in an evening dress covered in blood. He also said that she claimed that a female character in the movie 'Zero Dark Thirty' was partially based on her, and that she boasted "I take down foreign governments. I own Washington."
Another witness, former personal assistant Michael Doncheff, backed up Busch's claims, saying Driscoll had said similar things to him.
Driscoll denied the claims, saying "These statements made about being a trained assassin, hired killer, are ludicrous and without basis and are an attempt to destroy my credibility. Not even Rusty Hardin believes this. I find it interesting that some of the outlandish claims come straight from a fictional movie script I've been working on for eight years,"
Richard Sniffen, a minister who performs Christian music shows at NASCAR events, and a friend of Busch and Driscoll, testified that Driscoll had told him that Busch had only pushed her and she bumped her head accidentally.