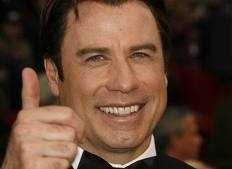 By Geno McGahee
The January massage session that went too far, according to a masseur, came to a happy ending for John Travolta when a judge dismissed the lawsuit, but it's not over yet. Glory hound attorney Gloria Allred is on the case and is representing "John Doe #1" in an attempt to get some justice. The lawsuit was dismissed without prejudice meaning that Travolta is still game.
Allred is known for representing clients that went after such celebrities as Tiger Woods and Herman Cain.
Travolta is accused of groping the genitals of the masseur and then he is accused of masturbating in front of him. The crotch grope and the act of the GREASE star rubbing one out led to a 2 million dollar lawsuit with the charges of assault, sexual battery and intentional infliction of emotional distress.
Remarkably, John Doe #2 has emerged, claiming that the same thing happened to him. Travolta has insisted that there was no Summer Loving going on in any hotel room and that this is all a scheme to get his money.
Expect some media fireworks in the days, weeks, and months to come. It's going to be interesting.