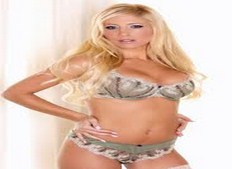 Tasha Reign takes box cover real estate on 3rd Degree's "Lap Dance."  The new DVD release provides the VIP treatment, as agile strippers dance and tease viewers before engaging in hardcore sex scenes.  "Lap Dance," from director Mike Quasar, is the most recent to feature the rising star on the cover, symbolizing Tasha's popularity amongst consumers.
To see the not-safe-for-work (NSFW) cover and trailer for "Lap Dance," visit http://www.thirddegreefilms.com/movie/1134/lap-dance.
Director Mike Quasar says, "Tasha Reign is a superstar in the making.  I'm taking advantage of every opportunity to feature her in as many of my movies as possible."
"What an amazing cover," exclaims Tasha Reign.  "Mike [Quasar] always makes me feel confident and sexy on his movie sets, translating into great scenes.  I really enjoyed working on 'Lap Dance,' as it allowed me to combine my erotic dancing with sex for an extremely sexy movie."
"Lap Dance" is the most recent movie featuring Tasha Reign on the cover.  New titles spotlighting the blonde goddess include Zero Tolerance's "Kittens & Cougars 5," Pleasure Dynasty's "Zorro XXX: A Pleasure Dynasty Parody," Zero Tolerance's "Knockers Out," and Zero Tolerance's "Blow Me Sandwich 15."
In addition to the DVD covers spotlighting Tasha, her popularity is demonstrated through appearances in famed magazines Playboy and Penthouse, including being named a Penthouse Pet.  Tasha received a 2012 Best New Starlet nomination from XBIZ, while serving as a Trophy Girl for the award show.
About Tasha Reign:
University student, vegetarian, social activist, free spirit, yoga enthusiast, feminist, hardcore porn star – meet Tasha Reign, the most dynamic and multi-dimensional new star in entertainment.  Long before becoming sexually empowered through adult movies, Tasha found herself in front of the camera on the third season of MTV's "Laguna Beach."  Realizing her love for the spotlight, Tasha began dancing at gentlemen's clubs and nude modeling, all while pursuing a bachelor's degree in Women's Studies from UCLA.  The 5' 5" SoCal beauty was featured in Playboy's 2010 "Girls of the Pac-10" and named the May 2011 Penthouse Pet of the Month.  A desire to further explore her sexuality led Tasha to adult movies, where she is one of the most sought-after rising stars, appearing in movies for the top studios.  Tasha's acclaimed performances were recognized with a 2012 Best New Starlet nomination at the XBIZ Awards, where she also served as a Trophy Girl.  For more information about Tasha Reign, visit www.TashaReign.com or www.Twitter.com/TashaReign.
Keywords:
Tasha Reign, 3rd Degree, Lap Dance, Mike Quasar, Zero Tolerance, Kittens and Cougars 5, commercial success, retail success, Zorro XXX: A Pleasure Dynasty Parody, Pleasure Dynasty, Blow Me Sandwich 15, Knockers Out