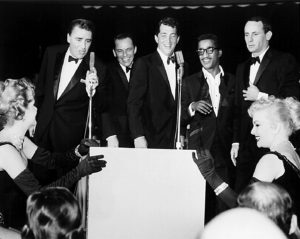 By Larry Henry
The "Rat Pack" publication by Life now on newsstands recalls, in pictures and words, the mid-century era in Las Vegas when Mafia figures, entertainers and elected officials hobnobbed together on the Strip, with the Sands hotel-casino as the neon nightlife's glamorous ground zero.
The Strip was their private playground (and cash cow), with tourists in evening attire as amused witnesses. The Rat Pack, called "The Original Bad Boys" on the publication's cover, were Frank Sinatra, Dean Martin, Sammy Davis, JR. and a select few others.
Sinatra's 1955 album "In the Wee Small Hours," now considered a classic, helped establish a mood-song tone in the post-war years that, a little more than a decade later, would explode into a cultural fireball during the youth-fueled swinging '60s, parodied by Mike Myers in a couple of "Austin Powers" movies.