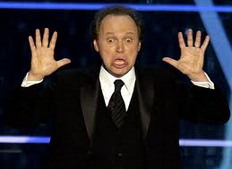 By "Bad" Brad Berkwitt
The organizers of the Oscars decided yesterday that since Eddie Murhpy dropped out of hosting next year's awards show, they were bringing back fan favorite Billy Crystal to take over the emcee duties.
It seems interesting timing for Murphy to decide to withdraw with a movie (TOWER HEIST) coming out today in theaters. Murphy, has been headlines for two days and no doubt, this helps the box office returns.