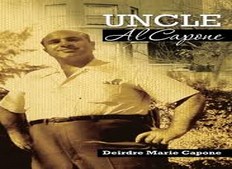 By "Bad" Brad Berkwitt
When one hears the name Al Capone, the old days of Chicago come to mind when he ruled the city with an iron first as Public Enemy #1. Years since his death in 1947, movies have been made portraying his life on the big screen as well as the small screen where he has been a character on shows such as The Untouchables and most recently, HBO's Boardwalk Empire.
However, if you are fascinated by people as I am, you wonder what about the man named Al Capone behind the myth? Well, when NewzBreaker's Managing Editor Geno McGahee was contacted about doing a book review for Uncle Al Capone written by his grandniece, Deirdre Marie Capone he knew that was a genre that I have always been interested in and had it sent to me read/review.