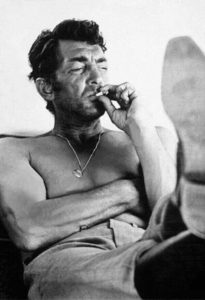 By Jessica Carson
Today I'm going to throw some cool facts about Dean I thought the NewzBreaker readers would enjoy. When he was 4 years of age, he sang in a church choir with his brother William in Steubenville. Dean was Roman Catholic and always said his prayers before going to bed as a boy who was always thankful for all the blessings he received throughout his life. His daughters Gail and Claudia gave him a St Christopher's Medal for a Christmas present one year.
In the mid 50s, knowing how much he loved the saint, he never took that medal off. It was one of the best presents he ever got. In fact, it's in every movie he made and every picture he took from the mid 50s onwards. This is something many people don't know. Dean was actually colorblind. It's a condition not too many people have. He couldn't see most bright colors like reds, blues, greens and some dark colors like brown or greys. So on his dresser drawers and other clothing storage places at his home there were strips of tape placed on them telling him what color was what. When he went looking for something and when one of his daughters was young and had on a bright colored dress, she asked how do I look? He said fabulous with a big smile even though he couldn't see the color of the dress.
Dean was claustrophobic and couldn't stand small closed in places. He was known for taking eight flights of stairs once to avoid riding in the elevator, He was also afraid of hospitals, but he got over the fear when his best friend Sammy was dying and when he had to go to one when he developed lung problems. Dean was a very meticulous person. He liked everything done a certain way. He had a good eye for detail and a really was set in his ways kind of gentleman.
Martin didn't like to talk during dinner very often. He never changed what or who he was for anybody. Dean would put you in your place if you got out of line with him. Nobody could walk over him or intimidate him. He truly was a man's man with a strong and sensitive spirit. Someone who you can just walk up to and have a nice conversation with or invite to your backyard BBQ. All you needed to do is just tell him where the beer. Dean was never a true "celebrity" because he was not obnoxious or had his nose up in the air. He wasn't a pompous ass! He didn't crave or need attention or thought he had to be better than someone else. Like most "celebrities" Dean was in fact better than anyone else and more talented,but didn't have to prove it he just did. That is how I feel.
Dean could do everything. He could play the piano and guitar like a pro. Martin could dance with such grace and elegance. He was a naturally a born funnyman and he had the voice of a sexy angel. Dean's favorite dish was Pasta Fagioli. He also loved animals and bred and raised pureblood Andalusian horses. They are a very rare breed. He just loved horses and knew everything about them. Martin was a true horseman and had many other kinds of horses on his ranches. He was also a boy scout. Dean didn't like parties of course and he was always home for dinner. His favorite thing to do when he'd get home was to fix himself a wonder bread sandwich with butter in between it and watch TV before dinner. He use to put five teaspoons of sugar in his coffee each morning which is too much sugar! And besides playing golf he played lots of other sports like baseball, tennis, pool, and cards. Dean was a natural athlete who even got to coach and play for the Los Angeles Dodgers in the 60s. He was not a guy that liked to talk a lot. Martin was a very private person and only showed you what he wanted you to see. But he loved to have fun and goof around telling corny jokes that always cracked him up. Dean was just quite extraordinary! If you took the time to look beyond his outside package.
I hope you enjoyed the many facts here about Dean!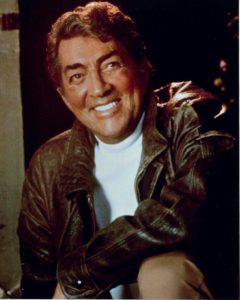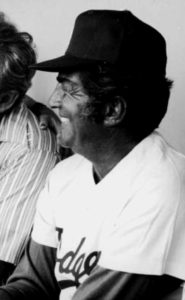 Comments or questions are welcome.