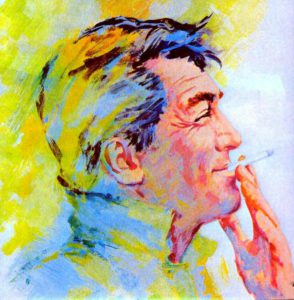 By Jessica Carson
Today NewzBreaker readers we have the story of how Dean got his TV show on NBC. Dean was often a host on the TV show Hollywood Palace. In 1965, one of the best episodes was when he got to introduce The Rolling Stones on the show. He was so funny when he was making fun of the them by joking and saying I don't know what there singing about "but I've been rolled while I was stoned myself!"
Only Dean could have gotten away with that, but The Rolling Stones felt insulted by him and didn't come back on the show. It was classic Dean and was so popular that NBC wanted him to do his own show, but he didn't really want to do it because in those days, you were either a TV star or a movie star. He wanted to be an actor because he was already making movies and recording records.
He was happy, but after much deliberation, he took them up on their offer. Martin told them he only wanted to work one day a week and to do no rehearsals. He thought they would refuse his outrageous demands, but NBC agreed to all of his demands. So, on September 16, 1965 Dean became the highest paid TV show host at the time, earning $40,000 an episode. Soon The Dean Martin Show became one of highest rated TV shows in primetime for years and he even won a Golden Globe Award for best male television star and was nominated nine years straight.
By now Dean was a household name and beloved by everyone across the world, but what made Dean's show so much fun and enjoyable was Dean himself with his charming laid-back personality, along with a great crew behind the scenes. Everyone saw that lovable funny guy we all love, but it was Greg Garrison that gave the show it's cozy at home and glamorous atmosphere because he's the one that got the Golddiggers the beautiful girls that surrounded Dean each show and they also left in all the goofs and ab-libs like Dean's deliberately fumbling his lines and not being able to see the cue cards.
It was just so hysterically funny. Jonathan Winters was one of the guests that Greg Garrison never wrote a script for, he just let him loose and nobody never knew what he was going to do! Over the nine years of the show, it had many guest stars like Lucille Ball, Dom DeLuise, Bob Newhart, Frank Sinatra, Sammy Davis, JR., Ella Fitzgerald, Joey Heatherton and Gene Kelly to name just a few.
It also had the spontaneous funny moments like when Dean did the mystery voice contest and he would say "come on folks" this voice has been running for weeks we have gotten three thousand callers someone should be able to get it, and he would play the voice one more time and it would be Frank Sinatra's song "Strangers in the Night". Dean would roll his eyes and make funny facial expressions when the song came on and would say if he says 'doobedoobedoo' one more time I'm gonna die and then right on cue Frank sings 'doobedoobedoo'.
Frank would come on the show and guess the mystery voice was him. It was so hilarious and the show was never carefully scripted like the other shows. It was always fresh, new, exciting and hilarious!
So NewzBreaker readers, that's how the Dean Martin Show got to be one of the greatest hit TV shows from 1965 to 1974.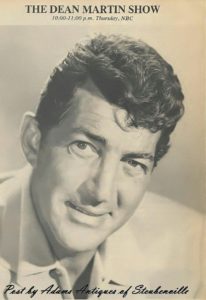 Comments or questions are welcome.