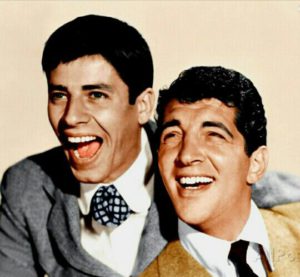 By Jessica Carson
While Martin and Lewis were performing at the Copa and doing fabulous, something huge happened to them. They were only there a week and Hal Wallis loved Dean and Jerry so much he signed them to a Paramount contract without really knowing what their act was about. Hal Wallis and the rest of his associates didn't really know too much about comedy, but they just loved Martin and Lewis performances.
It all went so fast that if you blinked you would have missed it. Dean and Jerry couldn't believe their luck! They were just taken aback by the splendor of it all when they signed the contract. Once they signed on the dotted line, they were Hollywood bound. When those two gorgeous guys got to Hollywood, they were just overwhelmed and excited about working for Paramount and Hal Wallis.
This was the top of line luxury all the way. They shared a huge hotel suite Paramount put them up in. Well, guys being guys and young guys that is, they heard about the Hollywood nightlife and got dressed up and went out on the town like single guys do even though both were married with children! The next morning, they both had a 5am appointment at Paramount and they only got a couple of hours of sleep.
They had a screen test to go to for a movie Hal Wallis was doing called My Friend Irma adapted from the long-running radio show. Hal Wallis wanted Dean to play Irma's roommates Jane's boyfriend. Dean screen test was a smash with him being a natural on the screen Jerry played Al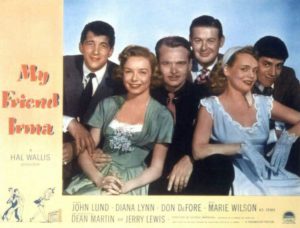 Irma's deadbeat boyfriend. His screen test was a disaster. So, the next morning while Paul was asleep (Paul is Dean's middle name) what Jerry always called him he left him a note "Saying Paul I'm going shopping and the re-shoot was scheduled for later on that day so just rest and have fun Love the Jew". But Jerry was actually going to see Cy Howard at his house to talk about the movie and the script. He told Cy that he wanted to see their act to get a feel for who Martin and Lewis would be on the big screen.
The handsome guy that sings with his sidekick, that's how Seymour was born. When Jerry got back to the hotel and told Dean everything, Dean was proud of him. That's why the movie was such a smash when it hit theaters in 1949. Martin and Lewis had instant stardom, it was pandemonium again! Martin and Lewis were huge money makers for Paramount and Hal Wallis.
Years later, after they broke up, Hal Wallis and Paramount were still such a big part of Dean's and Jerry's single acting careers.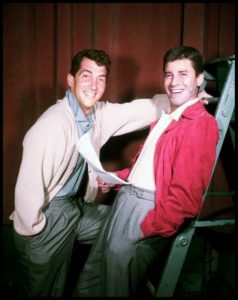 Comments or questions are welcome.