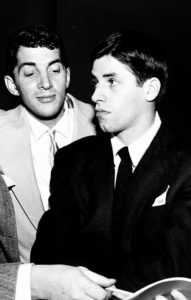 By Jessica Carson
While working at The 500 Club Martin and Lewis became an overnight sensation. They worked everywhere from the Havana-Madrid to one of their favorite spots called Leon and Eddie's, a local celebrity club in Manhattan, where every celebrity who was anybody was there. They would perform their act in front of people they admired for years like Milton Berle, Bing Crosb, Red Buttons, Danny Kaye and many others.
They also worked at the Chez Paree in Chicago. During all of this, they got to know each other and their act better which saw a couple of things happen to make them the comedy team we all know and love. First Dean gave Jerry his famous crew cut. Dean learned how to cut hair from his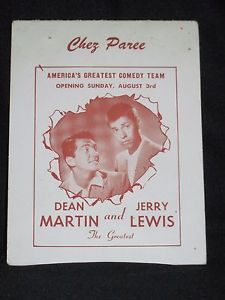 dad, who was a barber in Steubenville Ohio.
Because Dean had the hindsight that it would help in their act if Jerry looked much younger and to return the favor, for the haircut Jerry put quarter inch lifts in Dean's shoes to make him look taller than Jerry. Actually, they were the same height 6 feet. Martin and Lewis got the chance to play at the venue of venues the Copacabana, which was the top of the list nightclub in 1948. They were a smash hit and now they were making $5,000 a week at the Copa. It was pandemonium!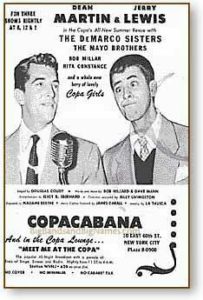 Everyone just couldn't get enough of them and they did a one-night gig at Roxy Theater between a Copa date. At the Roxy, Dean and Jerry were making $7,500 a week. They were well on their way to fame and fortune, but something happened at the Copa that would change both of their lives forever and ultimately lead to their breakup.
In my next column, I will tell the NewzBreaker readers what that "something" was.
Comments or questions are welcome.