By Jessica Carson
Dean's wife Betty was nudging him to get his nose fixed because she knew in hindsight it would improve his looks and a chance of real success for him. She didn't care where the money came from for him to have the surgery. Dean was deathly terrified of doctors and hospitals, but he had the Rhinoplasty surgery. I don't care how many stories and rumors there are out there about Dean's nose job, none of them are true!
Truth is nobody knows who fixed his nose because Dean himself never told anyone! He was a private and loyal man and wouldn't betray that person by telling and I know he paid that person back and it was before he met Jerry Lewis. Meanwhile Dean was enjoying moderate success as the newest hit singer on radio, and it was also difficult to find singing gigs because of the stiff competition out there like Perry Como, Bing Crosby and other popular singers taking all the good engagements.
This this led Dean down an unexpected road and to create the unlikeliest partnerships, but one of the greatest and funniest comedy duos of the 1950s. In 1946, he met a wacky kid named Jerry Lewis. They hit it off right away and they were billed at the same club in New York and Dean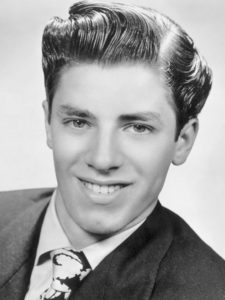 with his own natural sense of humor and practical jokes, was so amused by Jerry's act, he told him "you're one funny kid!" Whenever they were booked at the same place they would have a great time joking around and pulling practical jokes on each other.
One day Jerry overheard that Skinny D'amato the owner of the 500 Club in Atlantic City needed another act for his show so Jerry suggested his friend Dean as the singer, but Skinny didn't want another singer! Jerry said no we do funny stuff together! Skinny said oh a comedy act! He booked Dean and Jerry as a comedy act. Jerry called Dean and told him about the job. Dean didn't find out what the job was till he got there and Jerry told him the whole story. They had to come up with a comedy act before they went on stage that night. Jerry wrote what would became their ticket to superstardom on the back of a greasy pastrami bag.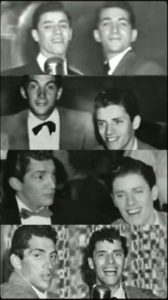 Comments or questions are welcome.