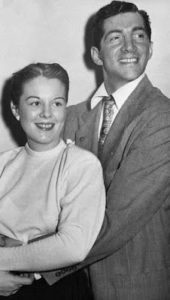 By Jessica Carson
In 1944, Dean went on tour again going to Canada and the East Coast, while Betty went back home to Pennsylvania to have their second child Claudia. She left the young children with her and Dean's parents while she went back to New York to be with Dean and to find out that he had been evicted for non-payment of rent, he was sleeping on his agent's hotel floor with three other people that included comedian Alan King and two others.
They were all struggling singers and didn't have much money, but Dean always seemed to look fabulous though and they loved to play practical jokes on each other. Whoever came in late had to sleep in the tub and when Dean left in the morning, he would turn the water on them. Betty came to stay with them for a while and she cooked for all of them on less than a dollar.
They all put money in to buy groceries, with Betty even helping King pick out a wedding ring for his girlfriend. My heart hurts when I think about Betty and what she had to go through. She was really raising those children alone because Dean was virtually non-existent. He loved his family but that doesn't change what happened. She aged faster than her years and she was only in her twenties when her hair went white, but she loved Dean with all her soul and when they were together, it was heavenly.
They had a tight bond. They were either other's best friend as well! Dean always showed her in some small way like how much he loved her like playing cards or going to the movies. Martin loved her because she fell in love with Dino Paul Crocetti an aspiring, penniless singer! He always
appreciated and treasured how much she loved him even though he had nothing.
Everything started to affect Betty because she was frequently alone for great spaces of time which would hurt any woman. The stress was getting to her they would fight and argue a lot and then there was rumors about Dean having affairs on the road. I don't think Dean ever meant to break Betty's heart because he really did love her so much. I think he was just lonely on the road by himself and missed Betty and he did some really bad things, but you know he was just human.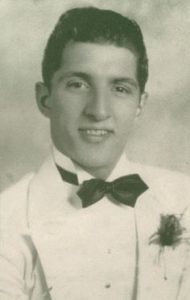 Betty was living with Dean's parents in Steubenville and she had a fiery Irish temper. One time, she slapped him across the face and threw a drink in his face too. He just walked away but came back a couple days later with flowers and gifts which had them making up.
Between raising the children going back and forth between Philadelphia, New York and Steubenville she learned what it was like being married to someone in showbusiness. She learned to speak Italian and learned how to cook Italian food and sew from Dean's mother. As well, Betty took good care of Dean. She taught him many things like how to talk properly and etiquette. Betty fell in love with Dino Crocetti, but she created Dean Martin.
Comments or questions are welcome.