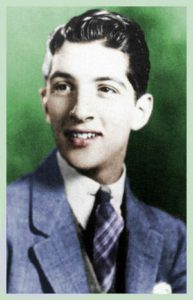 By Jessica Carson
So, while singing with the Sammy Watkins Orchestra Sammy insisted on another name change that would stick which was Dean Martin. In 1941, Dean met his first wife Elizabeth (Betty) MacDonald while he was rehearsing in one of Cleveland Ohio's hotels, he was smitten with her. He was 23 and she was 18. They fell in love and soon got married. Betty was one of five sisters. She was a world-class lacrosse player and a singer with a good sense of humor.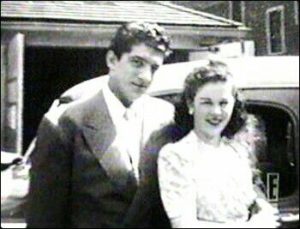 Dean's mother made her the most beautiful wedding gown for their marriage. After they were married, Dean went back on tour with the Sammy Watkins Orchestra. Betty went with him and a couple months later she was pregnant with their first child Craig. Pearl Harbor was bombed while Dean was on tour and soon he got his notice to serve, but he didn't because of a double hernia he had which kept him out of the war.
In 1944, Dean was recording for radio with his own show called, Songs by Dean Martin, Betty listened every night while she held Craig in her arms. At that time, Dean's most popular song was "Oh Marie". Soon Dean signed a 2-year contract with Diamond Records.
This led to a lucrative engagement at the Riobamba in Manhattan, which was his first big break because the previous singer which was Frank Sinatra, canceled his performance which opened the door for my baby Dean.
With his new salary of $150 a week he moved Betty and his son Craig to New York City and hoped things were going to get better. Betty joined him when she could while he was performing at the Riobamba Club where she knew early on, her husband would be a big star one day!
Comments or questions are welcome.