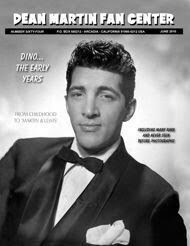 By Jessica Carson
Dean Martin was born Dino Paul Crocetti in Steubenville Ohio on June 7, 1917 to an Italian immigrant father Gaetano Alfonso Crocetti and an Italian American mother, Angela Barra Crocetti who were married in 1914. Dean's father was a barber and he was originally from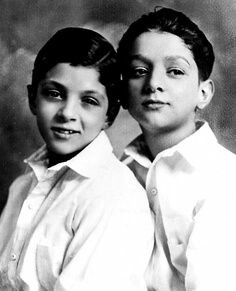 Montesilvano, Abruzzo Italy. His mother Angela was a seamstress. It's not well known that Dino had an older brother named William Alfonso Crocetti who was born on June 21 1916. He was a rocket scientist for NASA and died from brain cancer on October 20, 1968.
Dino only spoke an Abruzzo dialect till the age of 5 years old when he started school.  When Dino learned English, he picked up a slow and easy draw while talking and it stuck with him his entire life and got worse as he got older. Martin dropped out of high school because he thought he was smarter than his teachers. This caused his dad to tell him if you aren't going to go to school you are going to have to get a job! So, Dino had many jobs! 
First he was a bootlegger of illegal liquor for the gangsters in the city, and worked at a Steel Mill, but not for long. At the age of 15 years old he became a welterweight boxer under the name "Kid Crochet" for a while and earned a broken nose, scarred lip, a lot of broken knuckles and a broken pinky finger because he didn't have enough money to buy tape for his hands.
Dino shared an apartment with Sonny King who was in showbusiness and had little money. They used to hold bare-knuckle fights in their apartment where they would fight till one of them was knocked out and people paid money to see Dino knock out King in the first round of the amateur boxing match.
Dino soon gave up boxing and went to work as a Speakeasy croupier in an illegal casino, and while working as a croupier, he just loved to sing, but never thought he could make a living at it. His friends encouraged him to sing in public at the local clubs under the name Dino Martini (After the Metropolitan opera singer Nino Martini) and he got his first break singing with the Erine Mackey Orchestra. Martin got his crooning style from Harry Mills (of the Mills Brothers) and a couple more singers which led him to getting a job with the popular Sammy Watkins band.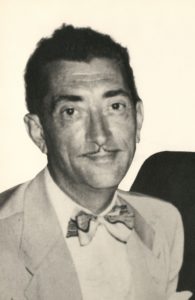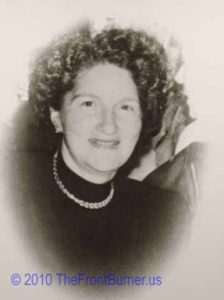 Comments or questions are welcome.