By Arita Sysamout, Tatiauna Miller & Katrina Broner
Stereotype: Widely held but fixed and oversimplified image or idea of a particular type of person or thing. As different as we all are, our stereotypes are wildly amusing. Rest is uneasy that we can't go out the door or pick up a phone without being hit with them and we definitely can't be the driver!
Arita:
So many stereotypes and not enough time. Firstly upon meeting me, I typically blow people away with my impeccable English. I've been complimented for not having an accent. What does an Arlington, VA native sound like? Sometimes I do say Ya'll. Secondly, stereotypes suggest I can't drive. I've have not yet hit anyone or anything and it's been almost 20 years behind the wheel. My insurance company actually prefers me now. They sent a preferred customer card and everything. Stay alive. Don't text and drive.
Another stereotype would be, I probably do nails or taxes. I do nails. That part is true, but I'm still not the stereotypical kind of Asian that does nails, and again the impeccable English. I'm foreign to Vietnamese nail techs because I'm so Americanized and I'll always be asked Where I'm from? I suppose I don't look like I'm from around here but I mean who really does? I also prefer my tanned skin over the typical beauty standards of fairer skinned Asians. According to a funny meme my haircut would also suggest that I would like to speak to your manager. No, I do not. Please just do your job well and let's keep it moving.
The last one is that I look like a super cool chick. Especially with my red wig. Whatever that means. I'm not that cool. Sorry ladies but I love the gentleman. I am also culturally diverse. That's the beauty of growing up in the DC metro area. What I've learned is there is no such thing as cookie cutter people. I speak two languages, cook all the delicious foods from Laotian, Mexican, Italian, Korean etc. I just don't have time for all the slicing and dicing it requires and I can't indulge in the super spicy foods! The traditional American Thanksgiving dinner, I got it. No problem. My bird is moist and has plenty of flavor! I also dance to merengue with the best of them. I'll show you if you want to take a ride. Buckle up though. Safety first!
Tatiuana:
That black woman can't be exotic and beautiful! I've got curly hair and tan skin, many strangers assume I'm not black. Why? I'm not sure what people think a black person looks like but I know for a fact we come in many colors, shapes and sizes just like any other culture. Black women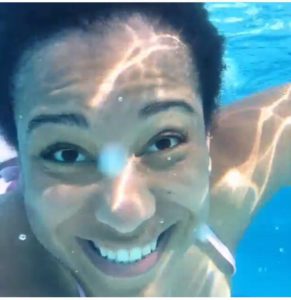 are exotic and beautiful. When someone asks my heritage and I say I'm black, the next question is so "You're JUST black?" "Not black and Latin American or white, are you sure you're not mixed?" What the hell do you mean am I sure? On my free time I enjoy lying to strangers about my heritage because it's not OK to be "JUST Black?" I guess people are waiting for me to tell them my "Recipe." You know, I'm a quarter this and half that, nah I'm good with just being black. The color black is made up of many colors on the color spectrum, and that's exactly what we are. We are blues, reds, greens, yellows, purples and browns, wrapped up in one beautiful shiny black package.
I've found in my adult years that I can't just be black. I've always been proud but cautious. When I say I'm just American, there's a gasp for air like it's some unbelievable phenomenon. Having long hair and dark cocoa honey skin, with "Chinese eyes" often means I'm undoubtedly from some Caribbean island, but I'm not. Sadly, being black in this country is still frowned upon like it's the ultimate bad luck. The stereotypes have only multiplied as I get older it seems. The one I have the most fun with now is my phone voice. Since high school, I've always heard "You talk like a white girl."
So many times I have wanted to scream…What is talking black or white? Do you speak English? But then I would just be another "angry black woman." I was taught proper English so that is how I speak in formal situations. When I meet someone who has only spoken to me on the phone the effect is often hilarious. There is this look of confusion, they don't know whether to attempt to breathe normally or have a heart attack because I speak intelligently, in the proper tense and actually use "$50 words."
As amused as we are by the stereotypes that precede us, we would love to say: Hi. I'm Katrina. Hi, I'm Arita. Hi, I'm Tatiauna. And let that be enough for the moment.
Comments or questions are welcome.