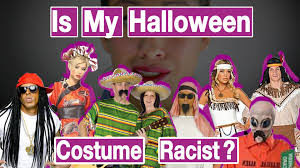 By Kimberly Palermo
I don't know about you, but Halloween is one my favorite holidays… It's the one holiday where parents can not only take part and dress up, but if they're really lucky, their kids are still young enough to sneak a few treats from that candy sack… to help lighten the load, of course.
This year, Halloween has really snuck up on me… I'm not sure if it's the erratic weather where summer was kind of fall and fall has been unseasonably warm. Maybe it's the hellish, divisive drama that has been non-stop since the Trump regime took possession of the White House. But at least there's Halloween, where EVERY American can forget about the hate, fear, bigotry, and racism and just get out there and have some fun, eat tons of candy, and escape the real world for one night…
Well, … maybe not EVERY American… At the risk of "raining on your Halloween parade," there's one subset of Americans who may not be able to fully take part in this notoriously audacious holiday. For these Americans, letting your "guard" down can be deadly.
You see, for many African Americans, Black, brown, and indigenous Americans, their vigilance will remain intact. In fact, this Halloween may take the word SCARE to a whole other level.
At this point, you may be wondering what I could possibly be talking about.
I'm not talking about the proud, tiki torch carrying whites with eye holes in their sheets and I'm not talking about the woke people who believe that until everyone is free, none of us are. I'm talking about the well intentioned, middle of the road, white folks who truly believe that they are doing their part to end racism and bigotry by just "being nice to everyone" and "not seeing color."
THIS is the group of people who are most likely to wear a racist or bigoted Halloween costume without ever thinking twice about it.
Please be clear, confronting them will result in their utter shock and indignance. They'll claim that it was a harmless joke, or wonder why everything has to be about race. They'll tell you your attitude is really taking the fun out of Halloween for them. They may whisper under their breath that maybe you should "Lighten up" a bit. And while they might be embarrassed… at least a little, … There is NO doubt that they will be highly offended. Your concerns will cease to exist and it will become ALL ABOUT THEM.
So, in honor of one of my favorite holidays, I felt it was warranted to give white people a heads up.
I can almost hear you saying it now…. So please, let me clarify…No, it's NOT about being PC and looking the part of the progressive humanist. It's about actually being a decent human being who is educated about privilege. It's about being respectful to your fellow humans rather than ignorantly disparaging an entire group of Americans, all for one night of attention… Seriously? Are you really that desperate for a laugh or two?
So, in the spirit of educating white Americans who actually do believe in equality, I have made a partial list of what I'll call incredibly disrespectful Halloween Costumes and as a bonus I have included a short summary explaining why.
1. Black face – when a "white" person dresses up as a black person by painting black on their face.
The term "black face" has an expansive history in theater. It has been used over time to exploit, appropriate, and keep racism, stereotypes, and prejudice alive and thriving against African-Americans.
2. Native American costumes – when a person dresses up like the stereotypical "Indian" portrayed by the white media. I'll put it bluntly. Headdresses are almost always for elders, those with a lifetime of wisdom. The face paint and the feathers are not given, they are earned. They have spiritual significance and are highly respected. It is an honor in the native culture… not a costume.
3. Hitler costume – dressing up as Anne Frank, Hitler or a Nazi- I'm sorry but, millions of Jews, Black people, and other oppressed groups were murdered in the gas chamber and/or starved to death… Do I really need to go there?
4. Religious garb – dressing as a Muslim, unless that is actually your faith… during Halloween is beyond inappropriate. Talk about making light of one of the most devout religious groups on the planet… Wearing a burka or a hijab isn't a costume, it's an expression of identity, culture, faith and/or laws of the particular nation.
5. Prison jumpsuit – Did you know that in America 70% of all people in jail HAVE NEVER BEEN CONVICTED? Did you know that the 13th amendment, (yes, the one that ended legal slavery) didn't end ALL slavery? If you are being punished for a crime, you CAN be made to work as a slave in America. The U.S. puts more people in prison than any nation in the world. Mass incarceration is very real. Don't make light of this inhumane practice. People of color are extremely over-represented in this population. Do I really need to explain this? Look up red-lining, Jim Crowe, Black Codes, and get back to me…
6. The following is a list of other costumes that exploit stereotypes and show a complete lack of respect for the culture of historically oppressed groups in the United States… You may want to sit for this. These are equally obnoxious: suicide bomber, dreadlocks, Rastafari, refugee, terrorist, "cross-dresser," transgender person, cliché garb of Mexican, Asian, or any other group whose culture is being mocked as a costume.
So, by all means, get out there and have a great time at Halloween. Just don't do it at other people's expense.
Check out Kimberly's YouTube Channel: End Racism, Bigotry, & Inequality In Our Lifetime
Comments or questions are welcome.