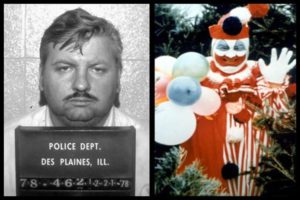 The scariest killer clown America has ever known wasn't from outer space or a Stephen King novel. He was a small-town staple at children's birthday parties who juggled his part-time clowning work with being a family man, successful businessman, and respected pillar of the community. But behind John Wayne Gacy's silly circus act lurked a serial killer whose legacy became one of horror, not humor, when he was sentenced to death in 1980 for the murders of 33 young men. Gacy, also known as "Pogo the Clown," changed the way Americans saw clowns forever, and to this day his reign of terror still inspires popular culture on screen and in real life with people in creepy clown clothing popping up in small towns just to scare passersby. Now, America's leading true-crime network Investigation Discovery examines Gacy's legacy as one of the world's most prolific serial killers in the one-hour special THE KILLER CLOWN, airing on Halloween: Tuesday, October 31 at 8/7c.
THE KILLER CLOWN follows Gacy's path from childhood to cold-blooded murderer. First-hand accounts from investigators and people who knew him best combine with dramatic re-enactments to bring his deception to life and terrify a new generation. Additional interviews with psychologists and criminal experts seek to uncover what may have driven Gacy down the path to murder. Gacy's story is undoubtedly one of the most bizarre in modern criminal history. Beyond the façade, Gacy's m.o. was to prowl the streets at night, luring hitchhikers and runaways back to his home in suburban Illinois, where he'd torture them to death and bury the bodies in a crawl space. It was only after extreme efforts by his sole surviving victim that police were led to Gacy and could connect him to the missing persons cases.
THE KILLER CLOWN was produced by Twofour Broadcast Limited.