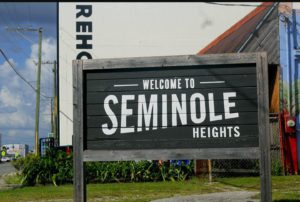 By Katrina Broner
Here in Tampa a serial killer is putting lives in danger and arguably the most fun day of the year in serious jeopardy! We have 5 days until Halloween and as of October 9th this city has been thrown into a frantic search for a killer.
As of today…he's still out there.
The official definition of serial killer is someone who kills 3 or more people in about a month. In the area of Seminole Heights, in Tampa, 3 people were killed in just 10 days. The only leads they have are a few surveillance videos of a person walking and then running from the area the first victim was shot. He could be the killer or at very least a person of interest but no one has identified the person in the video yet.
Our hearts are so heavy with sympathy and condolences for the families of Benjamin Mitchell, Monica Hoffa and Anthony Naiboa. Their innocent lives were taken by senseless violence, no explanation and no clue who did this.
The Neighborhood Watch Just Got Real.
Every eye is now open, some armed and every safety caution has been given and put in place. Residents are now in the house before sunset, walk their dogs in groups, children are being escorted to bus stops or to school by police, even the public transportation routes have been temporarily changed to drop passengers in well-lit populated areas after a certain time. City officials are also making sure to clean up the neighborhood streets getting rid of junk and boarding up vacant properties where the killer could hide.
Even in grief the community has been strong and stood together as one, so many of them vowing that this violence would not keep them in their homes living in fear. They're also begging that someone, anyone to come forward with any information about the murders. Someone had to see something! We all just want to go about our lives safely without worrying about who's next or if we're next.
Now as Halloween approaches, they are concerned about the safety of the children that will be out trick or treating and considering cancelling it all together. The community of Seminole Heights deserves much applause for their resolve, cooperation and resilience. The residents, police and a community organization called the Guardian Angels have promised that if the children do go Trick or Treating, they will be out in force Trick or Treating right along with them.
Its been about 15 days and having a serial killer on the loose in Tampa is definitely scary. We all hope it will be over soon because the danger is very real but fear is also choice.
There are alternatives to the door to door like Trunk or Treat spots and Fall/Halloween festivals that are safer and under constant surveillance. As for me and my family, we are going to dress up and go with a group of friends as we always do. I believe in taking the proper precautions,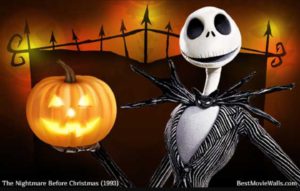 being smart, safe and having a little faith in law enforcement.
I also believe in keeping my sense of humor as not to completely worry and wallow in gloom and doom; so I must say living in Tampa right now is actually a bit reminiscent of the Nightmare Before Christmas. Jack (the spirit of Halloween) is missing. Oogie Boogie is loose. The Mayor is mad as hell vowing to catch the "son of a bitch" that took innocent lives and Halloween just might be canceled!! We can't just skip Halloween and make up for it at Christmas, as we know, it just doesn't work well to mix holidays. I am hopeful that they catch this serial killer soon and in the mean time, Jack the Pumpkin King will still "show up" just in time to keep Halloween alive and full of scary fun.
The neighborhood of Seminole Heights has chosen to stand watch and go on with life together as much as is safely possible, most importantly looking out for each other as good neighbors. They are a shining example of a neighborhood watch.
Until Next Time, Stay Awesome.
To see more of Katrina's writing follow the TrinityLife and shop at her online company 2Key Creations.
Comments or questions are welcome.