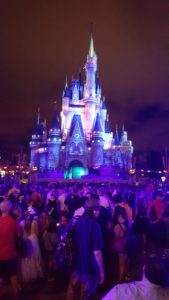 By Katrina Broner
One of the reasons I love living in Tampa, FL is that I'm in the middle of everything! Anything fun we want to enjoy is just a hop (1 hour or less) a skip (3 hours) or jump (5 or more) away. The discounts as a resident of the Sunshine state aren't too bad either. This time my family and I went just a hop away to Orlando to enjoy the most popular tourist spot, Walt Disney World!
This trip included all my immediate family which has grown to a decent size, 11 to be exact and we went to enjoy Mickeys Not So Scary Halloween Party in The Magic Kingdom. The last time we got together we enjoyed Myrtle Beach and we thought planning that was stressful but this trip truly tried our patience! What they don't tell you about the most magical place on earth is there is some serious behind the scenes work to be done first, especially with a big group. They are pretty good about walking you through step by step, but by the time I knew what was going on and got everything done, I didn't want to hear the word Disney even uttered accidentally! So, if you have a big family, appoint a coordinator and be prepared to be prepared. I was the coordinator this trip and patience is truly a virtue.
We chose the beautiful Mexican/American West themed resort, Disney's Coronado Springs for our 4 days and 3 nights. My family traveled from different parts of the country so the resort did what they could to facilitate check in as we arrived including a complimentary shuttle from airport to resort. There's an online option to check in early and they were very welcoming at the front desk and registration.
Part of the preparation and check in is a thing called the Magic Band. Technology has allowed all the magic a guest would need to be put into one simple, durable rubber/plastic waterproof wrist band similar to a watch, very cool. The Magic band is the key to everything, literally. It is the room key, money and park tickets all by loading it and touching it to certain Mickey marked devices. It even acts as identification which is great in case children get lost. The best thing is you keep it forever and just change the information linked to it each time you visit.
Once everyone got checked in and comfortable we took a moment to behold what would be our surroundings for the next few days. All of our rooms were clean, decorated beautifully and even had flair pins to welcome us. The view was a beautiful lake that the sun rose over every morning and off in the distance was a Mayan Temple. It looked like something straight out of an Indiana Jones movie!! Upon further exploration we learned that the Mayan temple was called "The Dig Site" and was complete with a playground, snack bar, volleyball court, fire pits, a huge pool and a great water slide!! It was almost too much fun to take in but for the next few days it was motivation to get up and explore as early as possible!
The awesome thing we learned about all of Disney's resorts is that you don't have to stay stuck at just one. All the resorts have restaurants, special events and gift shops to visit, the only rule is you can't go to the other pools. Even if you are not going into the theme parks there's still plenty of fun to be had so naturally we did a little resort hopping. Our first dinner was at Maya Grill, they serve Mexican cuisine but have the kid friendly options as well like mac and cheese and chicken nuggets. Between the 11 of us we had everything from veggie tacos, to seafood to steak.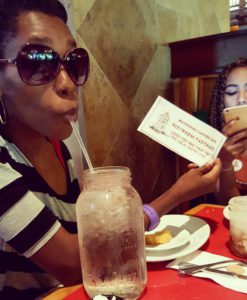 Usually, it's against the rules but a few of us tasted each other's meals simply because our whole table was full of food!! Wonderful, absolutely beautiful, delicious food! All those of drinking age immediately decided if the food is this good, we need a great drink to go with it. Mexican Sangria! Anytime I see sangria on the menu it's exciting but it soon faded into apprehensive curiosity…wait! What is Mexican Sangria!? It is sangria made with Tequila. After a 1.5 glass, I have decided I do not like Mexican Sangria and Tequila is still the devil! Yuck for me but maybe not for some of you. At least try it!
The next place we ate was lunch at the Whispering Canyon Cafe at the Wilderness Lodge. Resort transportation is free and they have a couple options so get to lunch we took a bus and a ferry. At Wilderness Lodge our senses were pleasantly overwhelmed with the feeling of being in the middle of nowhere on a camping trip!! This resort is literally a log cabin with and outdoor theme complete with Native American influences in decoration, history, as well as early settlers and cowboys of a small town or trading posts. Whispering Canyon Cafe serves Barbeque and signature sandwiches and melts mostly. Our party had 4 small children so it was great to learn that all Disney restaurants keep children in mind and keep it simple for them.
As we ordered our meals the waiter nonchalantly throws a bunch of napkins and straws on the table, they go flying every where and he says "There ya go! Now what can I get for ya to drink?" My beautiful mother who is the Queen of Polite almost felt the urge to go off on our seemingly rude waiter. We all looked concerned as well until we heard another waiter announce some strange country things to the whole restaurant and saw her do the same!! We quickly realized that this was purposely the atmosphere and experience of Whispering Canyon and we were in for some stunts and surprises of our own!! I made the "mistake" of asking for a glass of water thinking it was a simple request. Our waiter, Craig, comes back with a tall glass jar of ice water as tall as my forearm!!! Then he says, "When you're done the bathroom is down the way on the left…Enjoy!!" Everyone is now pointing and laughing at me as I'm in shock. As if that wasn't enough Craig comes back with a piece of paper. Before I could ask, he's explaining that it's a Fast Pass to the bathroom so I can skip the line!! With a straight face he says, "Not sure how good you are at holding water, just trying to help!!" The whole table busts out laughing at me, Craig got me good. Later, my children asked Craig for some ketchup so at the top of his lungs facing the rest of the restaurant Craig yells, "Heeeeeeeeeeey!!
Whoooo's Got The Ketchuuuup!! We Need It Over Here Now! Who's Got It!?" We are all startled and our expressions change to Oh My Gosh when other people start coming to our table with ketchup bottles!! Everyone is laughing as 20 ketchup bottles from strangers arrive at our tables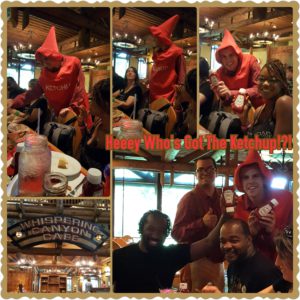 but that's not the best part. We hadn't noticed that since calling for the ketchup, Craig had disappeared. He was slick enough to reappear next to my stepmom who let out a yell when she realized he was standing next to her in a Ketchup costume!! Once again, we all fell out laughing as he asked if we had enough ketchup. Being corny and country has never been so much fun. Whispering Canyon Cafe is a great experience for any family!! Definitely should be on the top things to do list if character dining is not possible. And for those that like to try different adult drinks, the Magical Star at Whispering Canyon is a Must Have!! Its a fruity mix with passion fruit liqueur, coconut rum, and pineapple juice and they drop in a "magical star" (multi colored light ice cube) for effect. Delicious and fun!
Finally, on the last night of our stay we attended Mickeys Not So Scary Halloween Party. It is a special event in the Magic Kingdom when they close the park a little early and kick out everyone that doesn't have special event passes. It's a great option for families that want to experience Disney but don't have the time, money or energy it takes to be in the theme park all day. The party is only a 4 hours but with the passes they allow entrance to the park an hour or 2 early. Cinderella's castle was lit up in purple and green accent lights and the hosts for the party were the witches from the movie Hocus Pocus, a classic!! The Disney Villains put on a musical takeover of the Magic Kingdom for the night and prepared everyone for spooky fun.
After the witches' performance of I Put A Spell On You, just like in the movie, we headed into the park to ride everything we could!! The great thing about going to special events is you get all the fun of a regular day ticket but about half the crowd or less. All the rides had 15 minute wait times or less and some were set up to be trick or treating areas. Our family did not dress up in costumes this year but it was wonderful to see all the little kids and big kids at heart dressed up and enjoying the magic. We Made sure to ride the classic Mad Hatter Tea Party Cups and found a new favorite, the Seven Dwarfs Mine Train. The Disney "rite of passage" in my family is Space Mountain, once you're tall enough and brave enough to conquer that you're officially a Big Kid, No more "baby rides." This year my 8 year old son conquered it, he says he's a man now. Hilarious!
The Magic Kingdom is an awesome trip for any family. It can cause a bit of a sticker shock but it's definitely worth saving for, especially if you stay on the Disney resort properties. They take great care in your details and once you get past the preparation there's nothing left but to be in the moment. The world class hospitality is real and the only improvement I would make is to the My Disney Experience app and website. It is friendly but not family friendly, so it was difficult to share our itinerary as a group and maybe squeeze a little more fun out of the experience. Other than that, I look forward to our next trip and hope you have started planning and saving for yours.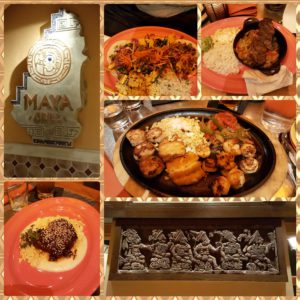 Until Next Time, Stay Awesome.
To see more of Katrina's writing follow the TrinityLife and shop at her online company 2Key Creations.
Comments or questions are welcome.