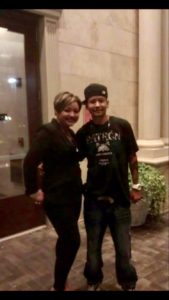 By Arita Sysamout
For the first few years of my life, it was just my older sister and I. We always wanted an older brother, someone to protect us at the playground and from boys when we grew up, then one day our wish came true. My cousin Aenoy was sent from Indiana for my grandmother to raise. Now I had a big brother figure. We got along like peas and carrots. He made friends easily and kept his end of the bargain up at the playground and later kept the boys in check. As we grew older, he became a Loss Prevention Officer and decided to Join the Army to pay for school and prepare for his future. Little did we know it was just the being of a long story.
Once he arrived at Fort Sill, Oklahoma for basic training in October 2002, he called home to let us know he was safe and would be back for Christmas. The next phone call was a month later, this time it was a Military Doctor asking for his Next of Kin. I didn't even know I was the one listed, though it made sense. The rest of what I'm about to share with you, won't. I wouldn't believe it for myself If I didn't see it with my own eyes.
The Military Doc said Aenoys kidneys were failing and he had a 40% chance of surviving. Once I arrived, my bro-cuz was in a medically induced coma, he was breathing through a ventilator tube and his normally slim 145lb frame had ballooned up to the size of 275lbs from fluid retention. His fellow basic trainees told us he had mentioned respiratory problems for some weeks that went ignored. By the time he finally got checked out at sick bay, the pneumonia had started to affect his kidneys ultimately shutting down all his business and causing restricted blood flow to all his extremities. His legs and feet were already turning bluish black. The top priority was to get his kidneys to work.
Doctors kept him in this coma for months. At the request of our family we asked that he would be transferred closer to home in the Washington DC suburbs. After arriving at Walter Reed AMC in Silver Spring, Maryland he earned the nickname "Lucky". They amputated a few fingers and both fibulas and woke him up from the induced coma to share the news with him, "Congratulations! You are Lucky to be alive!" Next you must get strong and learn to walk again. The 5th floor became a temporary home. Week after week we watched a new busload of amputees arrive every Wednesday like clockwork. They would be with us on the 5th floor receiving physical therapy and learning how to live the rest of their lives with new prosthetic limbs.
Aenoy walked out of there on his own in the summer of 2004. A few years later he found love with an amazing woman. Something he doubted was ever possible. Like most women she proved him wrong and fell for his charm and wit. She returned the favor by giving him a beautiful daughter. He fell hard for her too. Sadly he, just couldn't quite figure out how to love himself as much.
Have you ever lost a loved one to drugs? Chances are you have or at least know someone that has or you're the one with the addiction. It's a strange kind of loss that no one talks about. Even when the battle becomes too big to hide. Even before we actually lose them physically. We know the pain and frustration they live with is incomprehensible, whatever trauma they are trying to erase. I don't want to put myself in his shoes, but I try to understand it. I'm telling his story because it hasn't been told yet. My Grandmother insisted we tell people he had heart attack. As long as they didn't know it was pain pills that took his life. He didn't speak about his injuries ever, not even to the love of his life. We didn't speak about all the medications he was bringing home after every doctor's visit.
There's this cloud of shame that hangs around when you lose someone that has become addicted to poison. The embarrassment that everyone knows there is a problem. This huge weight of watching someone you know and love slowly kill themselves. All we can do is stand by and watch helplessly and try to mentally prepare for the inevitable. For my family that day came February 26, 2017.
Another phone call, this time it was my 90 year old Grandmother saying he wasn't responsive.
I wish this was a story of triumph and glory, but it's not. I wish I could say he ran a bunch of marathons and opened up an orphanage or something, but I can't. Nowadays I wish the war on drugs started with those Docs we trust to save our lives. Why save it and tell us we need this poison to survive? To kill the pain? There is no way to kill the pain. You have to find a way to live with it. Why do Docs call it practice? They're still trying out on real people! At what point do you know pain killers aren't the cure? I know it's only doctors that save lives so I won't knock them. But pharmaceutical companies and these practicing physicians have to recognize that they are killing millions of people with reckless prescriptions for poison every year for soaring stocks, kickbacks and personal gain.
Psychological care was never ordered. It's there if you want it but not pushed nearly as hard as the pills. This is the epidemic. For years he said it wasn't a drug because it was prescribed. It wasn't a problem because his doctors ordered it. Aenoy was a kind hearted, considerate guy that everyone loved. He's the one that went out at 3am for my pregnancy ham cravings and sat there and shucked oysters till I was full before he even had one for himself.
I'm not ashamed of my cousin for dying or using those stupid pills to aid it. I'm ashamed that we felt it was somehow his fault for trying to live. The shame isn't ours to carry. For anyone that has lost a loved one or is in the process of having to go through the slow torturous process, I want you to know that you have no reason to be ashamed or embarrassed. We are allowed to grieve because losing someone hurts.
Comments or questions are welcome.